You all know Local Honey right? Well I just moved here two months ago and I've already heard rave reviews; so obviously when I was asked to cover their "So Alternative" fashion show I jumped at the chance. Their show was the introduction of The Balee Collection for Tidwell and Perryman, curated by Balee Greer. The looks were mixed with pieces from Local Honey. The goal was to not only show people what they sell but how to put it together. The show opened up with a girl wearing a sheer black top with high-waisted blue jean shorts and a beenie.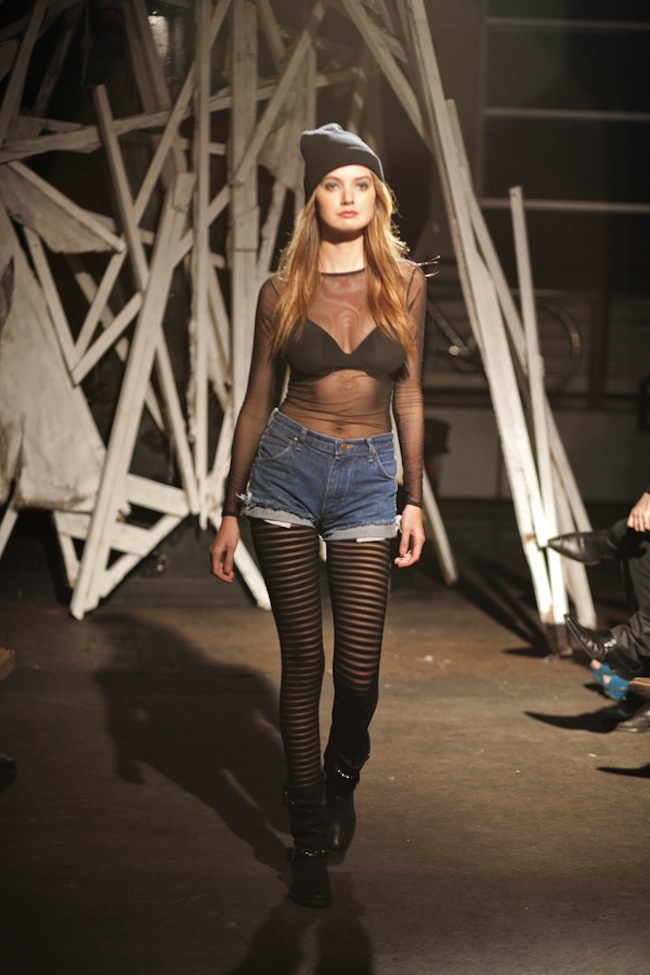 Photographer: Nhu Duong
The tone was set. Almost every person in the show was wearing combat boots or heels so high that I definitely noticed at least one model wobble. But my oh my, what a sweet night. The gang at Local Honey knows their audience. They completely embraced their 90s grunge theme with everything from the music to the cool abstract white wooden structure used at the end of the "runway."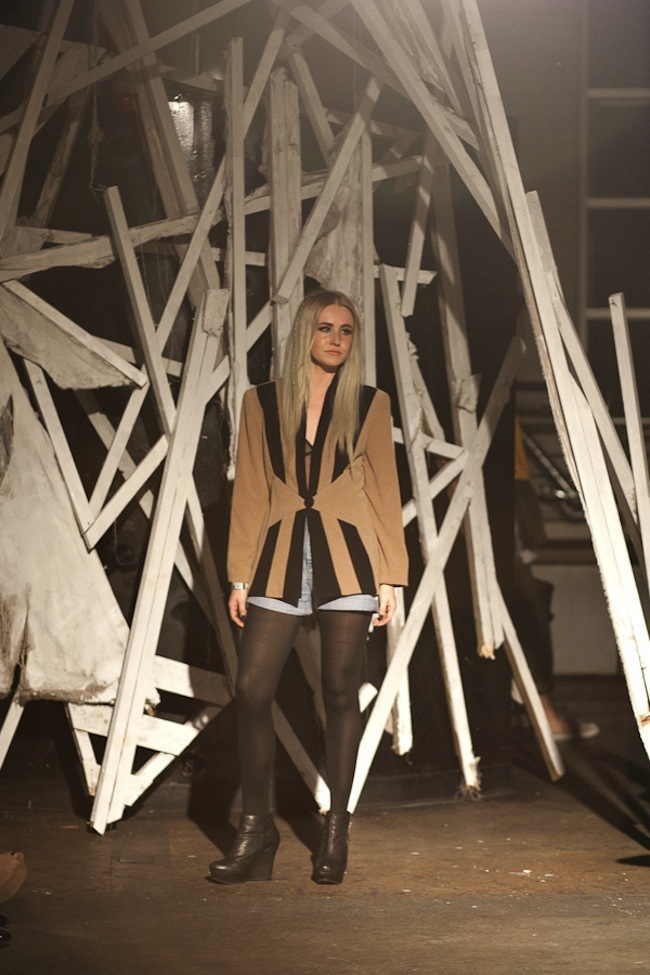 Photographer: Nhu Duong
Local Honey understands and celebrates the quirkiness of fashion. At times it was a little over the top. I do wish a model or two could've shed their bored expressions for a moment. But I certainly understand the need for 90's grunge authenticity. Both of my favorite outfits of the night involved a maxi skirt. What can I say? I'm a sucker for bohemian inspired looks.
Photographer: Chris Mellgren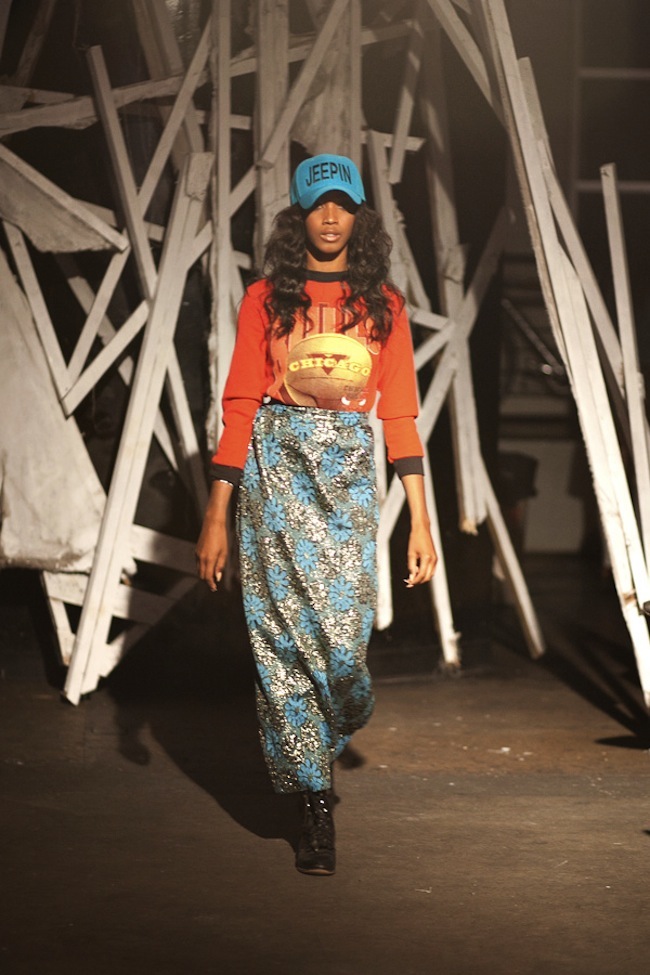 Photographer: Nhu Duong
It was just the right amount of irony and charm. The looks that walked down that runway were constantly challenging our normal ideas of what style really is.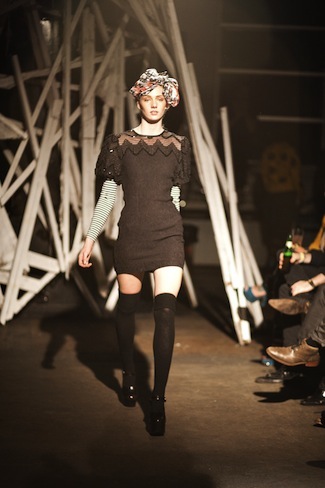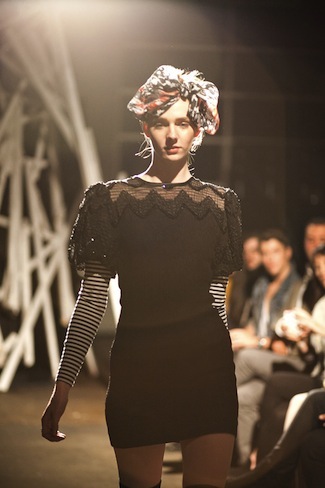 Photographer: Nhu Duong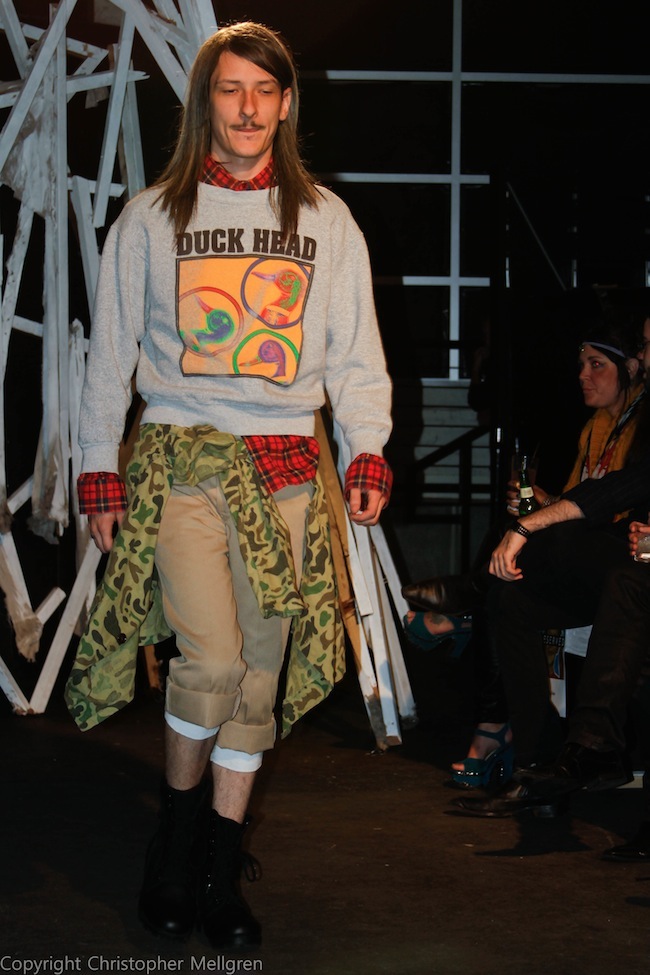 Photographer: Chris Mellgren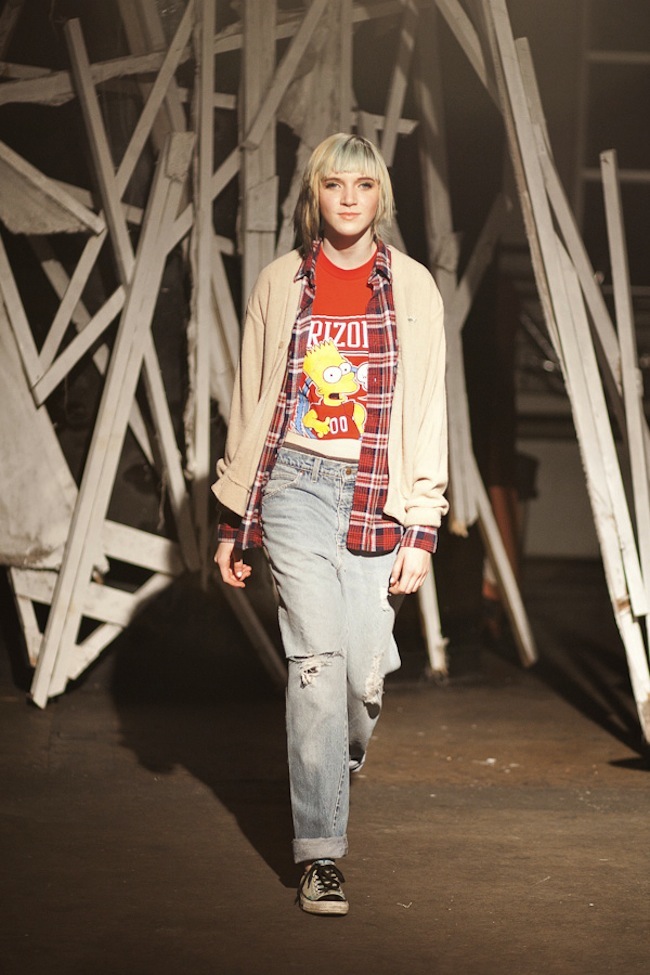 Photographer: Nhu Duong
I can't lie to you all. There were a couple of looks that had me wondering if the fresh prince of belair was going to walk out next. The fun and painful parts of the 90s were all there, but the irony of the way things were put together brought the looks into 2012. As much as I loved seeing the looks on the runway I liked seeing what my fellow show-goers were wearing more! Lets start with Rebekka Seale. This is one of the most beautiful vintage tops I've ever seen. I loved her decision to pair this amazing sequined top with a subtler-colored maxi and red lipstick. Gorgeous.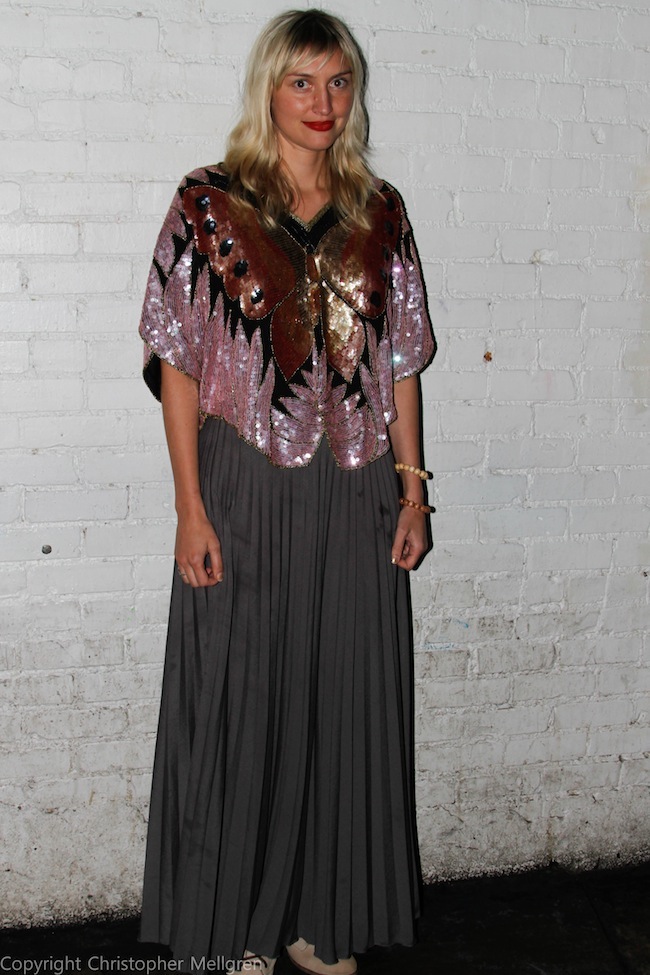 Photographer: Chris Mellgren
Next, I liked what Darron Ward was wearing. He fit in perfectly with this show in his quirky Disney sweater. I thought it was a good choice to make it little more mature by pairing it with the pants he chose.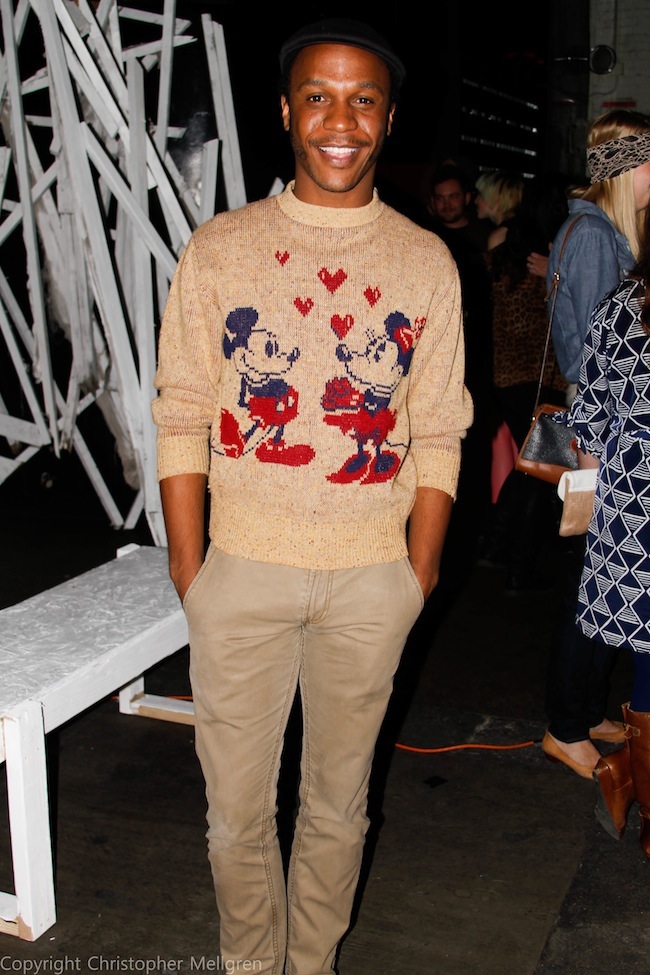 Photographer: Chris Mellgren
Sarah Smalley was wearing an outfit really similar to what we saw on the runway. What's not to love about a pretty dress paired with a chunky sweater?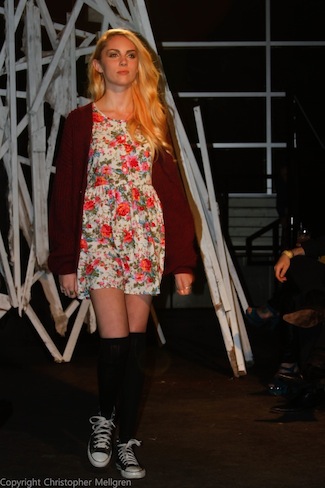 Photographer: Chris Mellgren
The next two girls I saw were both working the best of retro trends. High-waisted pants with funky button-up tops, similar concepts but done so differently! So allow me to take this opportunity to just say Danielle Kimmey and Judith Rosena I loved each of your spins on this trend so much I had to include both!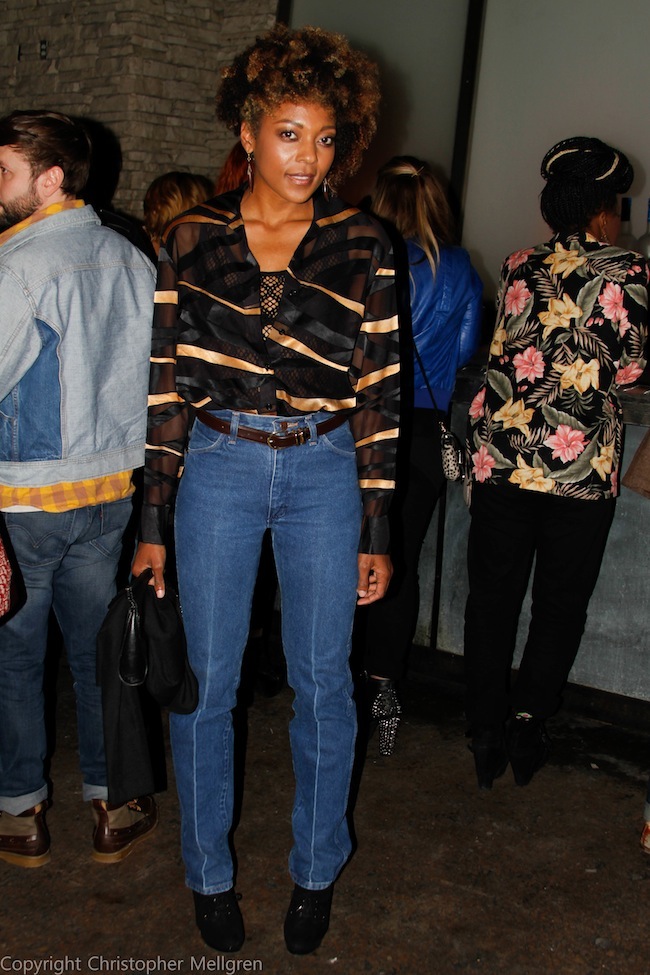 (Danielle)
Photographer: Chris Mellgren
(Judith)
Photographer: Chris Mellgren
It was an incredible evening. I think I know which store I will be hitting up next!