On Tuesday, March 29th at The Pinnacle Building in Music City, Nashville Fashion Week debuted its first runway show. The mood was set perfectly with incredible views of downtown, low lighting, and uber cool music playing in the background. The sprawling, loft-like space allowed for great runway views and comfortable mingling while fashionistas enjoyed complimentary cocktails and incredible appetizers as they waited for the runways shows to begin. Opening the show, was Jamie and the Jones.

Jamie and The Jones
Local designers Jamie and The Jones kicked off the show. Models glided down the runway in flowy cotton dresses and skirts to the beat of sensual world music. Muted earth tones of yellow, green, and tan in addition to beautiful, marbled prints painted an earthy, African palette. The incredibly beautiful hand embroidery added the right amount of color and interest to the clean lines of the collection. Tastefully accessorized with simple, thin, gold belts, unique jewelry from Nashville Stylist, Libby Callaway's vintage collection, fabric and fit were the focal points. A short, black dress with green zig zag embroidery was my favorite of the collection. A pretty pair of lime green drop earrings added a pop of color against the black linen dress. Strikingly feminine up-dos and loose cascading curls harkened to Meryl Streep's style in the movie Out of Africa. Soft makeup and the perfect shade of orange-red lipstick complimented the colors in the collection. Stunning, beautiful, elegant, and wearable, the Jamie and The Jones collection will appeal to a large audience. I loved the collection so much, I can't wait to buy some of their pieces! Jamie and The Jones' incredible collection is available online at jamieandthejones.blogspot.com and at Local Honey boutique in Nashville.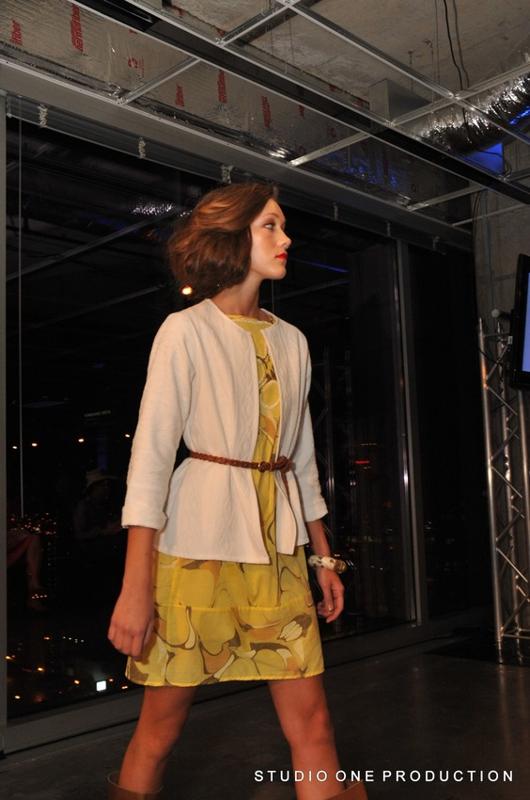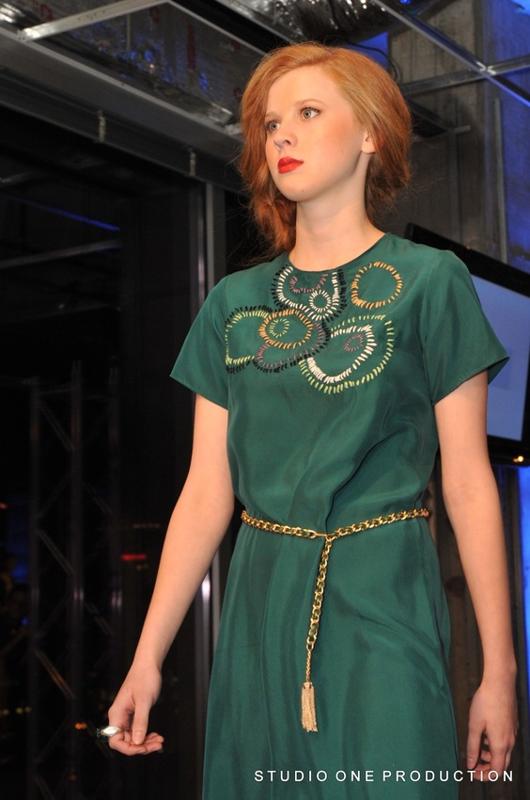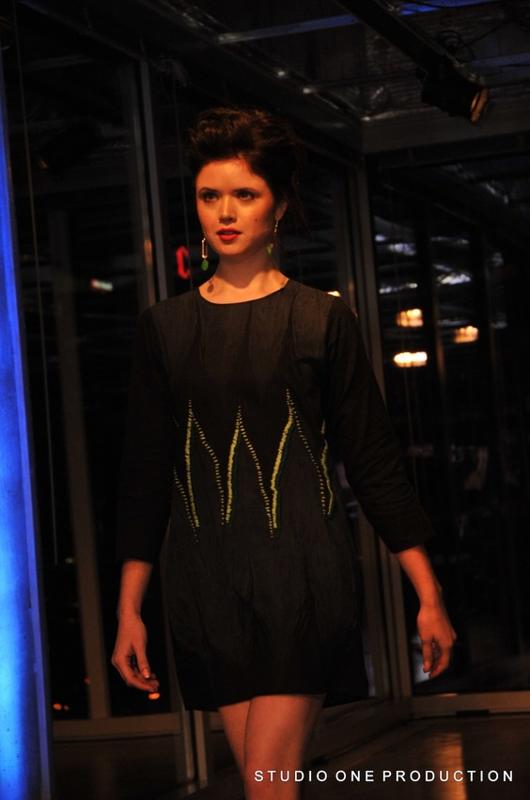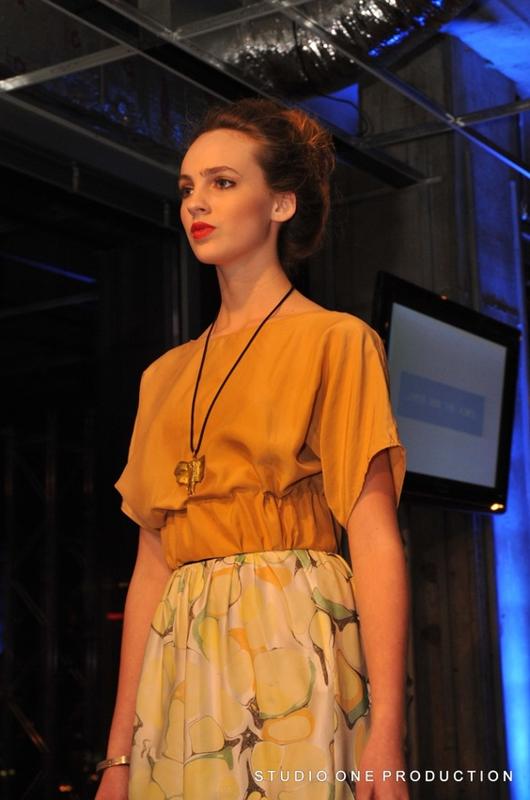 Akiko
L.A. based designer, Akiko Cook's show introduced funky prints, cool color, and sexy, drapey jersey fabrics. A light mango colored dress with black and white floral print was one of the first pieces, and one of my favorites. Simultaneously feminine, edgy, and interesting, the print reminded me of a vintage Asian fabric. Tie-dye type prints with a modern edge added to the boho chic sensibility. Fun, fresh, and modern, Akiko's designs are popular with the celebrities such as Christina Aguilera and Paris Hilton. Akiko's collection is available online at akikoonline.com and Boutique Bella in Nashville.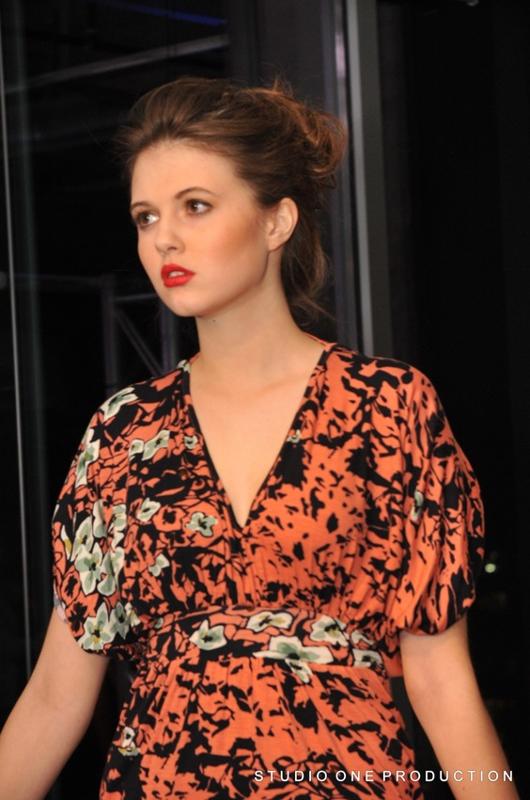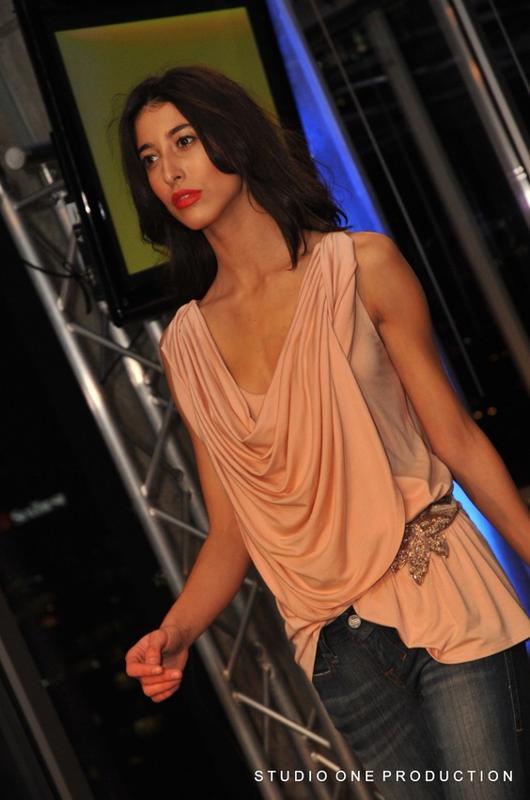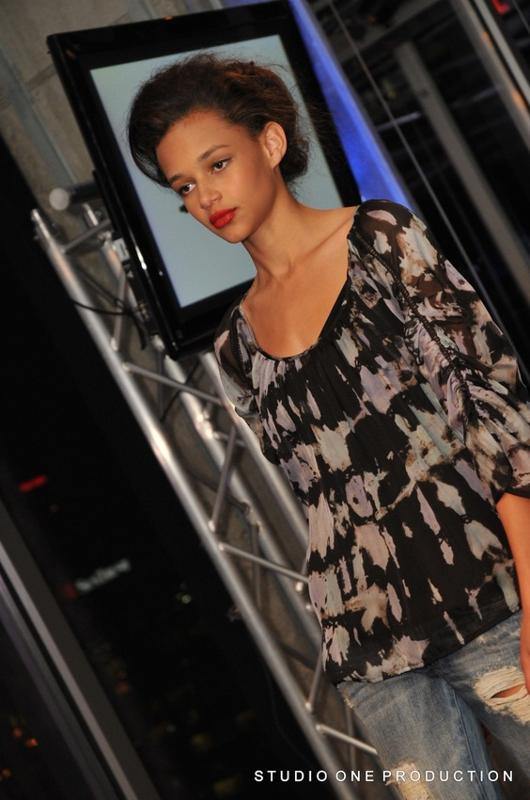 Sylvia Heisel
The song "Relax" by Frankie Goes to Hollywood kicked off the Sylvia Heisel show. Neutral solids, clean lines, subtle ruffle accents, and abstract prints adorned the models. For a quirky, unexpected touch, models carried multiple purses (as many as three) as they walked down the runway. A long, burgundy one shoulder dress paired with chunky gold and silver bangle bracelets and brown leather high heeled clogs was a funky, glamorous favorite. One of the most notable pieces of the collection was an amazing white, swing coat with a black abstract print ala Jackson Pollack punctuated by an awesome red tie at the waist. A super sexy pair of black and white ankle strap high heels with white leather ruffle details added femininity and sexiness. Heisel created the perfect marriage of modern glamour and abstract design. It's no wonder she has designed clothes for Madonna and countless other celebs. Her collection is available online at www.sylviaheisel.com & www.projectartisan.com and Jamie Boutique in Nashville.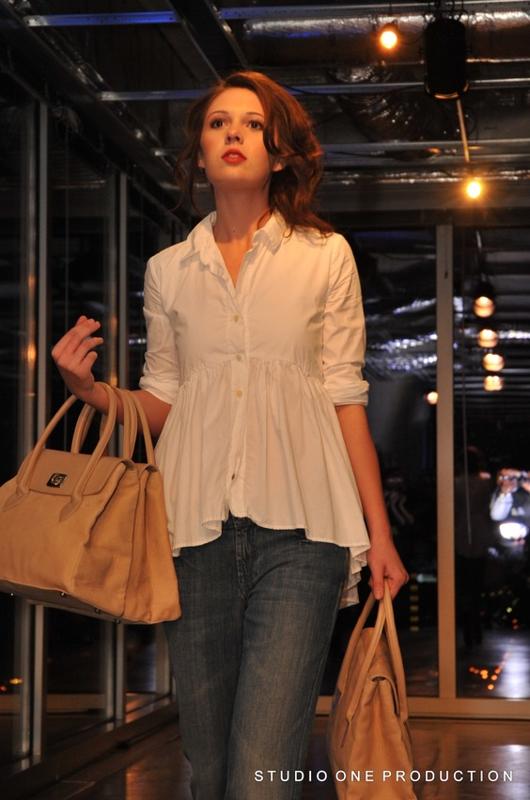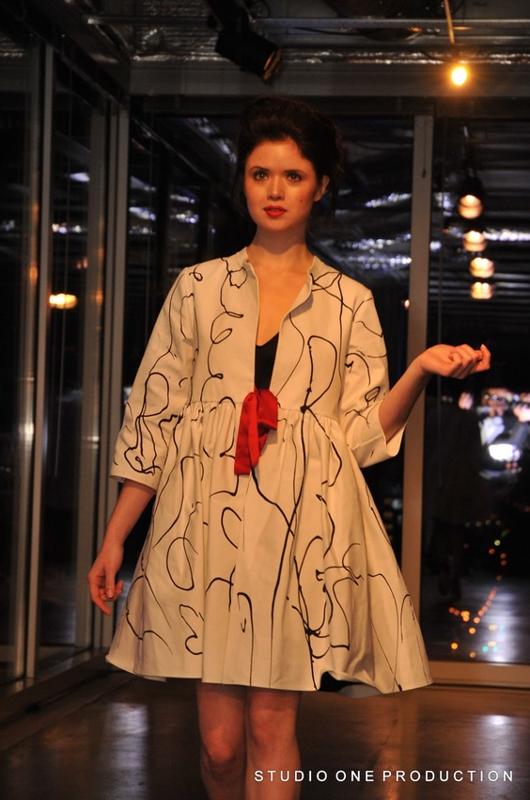 Loretta Jane
Next up was Loretta Jane, a Nashville-based label by designer Kelli Cooper. Rich jewel tones of purple, green, and navy in saturated solids and pretty florals as well as clean lines and soft ruffle details added to the beauty and femininity her pieces. Loretta Jane's style reminded me a lot of Gucci and I mean that as a huge compliment! Stylish and discriminating career women as well as those that simply want to feel stylish, pretty, and empowered will find lots to love from Loretta Jane. A gorgeous strapless, purple dress with ruffle pockets was the picture of elegant simplicity, a hallmark for LJ style. Loretta Jane collection is available online at www.lorettajane.com.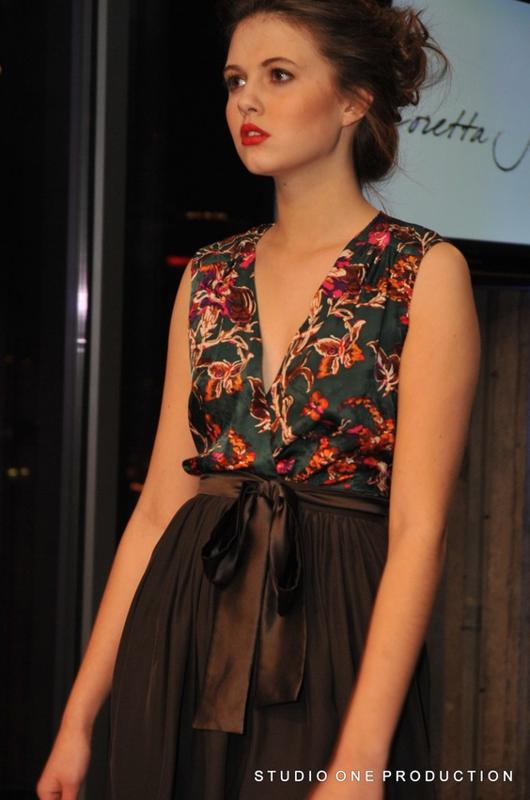 Kevork Kiledjian
New York based designer Kevork Kiledjian's show was the finale! He created a hot New York night-club vibe with house-music pumping from the speakers, as models strutted down the runway looking sexy and confident. Long, straight, sexy hair added to the rocker look of the models which was a departure from the prior shows of the evening. Beautifully fitted leather occasionally mixed with lace added to the sexiness of the ensembles. A stunning purple leather jacket and short skirt ensemble stood out amid a sea sea of black, gold, and neutral colored dresses. The electric energy of the show was echoed by the crowds reaction. Excitement and anticipation culminated with the show-stopper of the evening; a nude colored, short, leather, mini-dress with long fringe hanging down on either side. The dress hugged the models body perfectly like a second skin. What a perfect way to end the show! Kevork's super-sexy designs can be found online at www.kevorkkiledjian.com and at Gus Mayer in Nashville. I look forward to seeing more from Kevork Kiledjian in the near future!

Nashville Fashion Week's first night was a huge success! Amazing venue, fabulous designers and shows, and great turnout. Oh, and Nashville fashionistas were dressed to kill! Congratulations Nashville Fashion Week! Job well done!