Summer time is for gathering together under the Nashville skyline and partying. And no one throws a party like a Belcourt party. Consider this your cordial invitation to The Belcourt Theatre nD Festival Launch Party fundraiser Friday, June 24, 6-9 p.m. at Antique Archaeology in Marathon Village.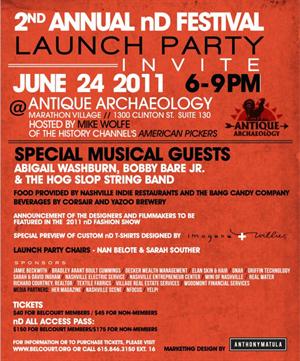 Launch Party co-chairs Nan Belote and Sarah Souther have put together an exciting event. "We hope the party gives our guests a taste of the full five-day nD Festival, with its vibrant atmosphere and stylish details." says Belote.
One huge detail is the opening of Antique Archaeology. This store is an antiques and found object store that is being opened by Mike Wolfe of the popular History Channel show American Pickers. Mike will be there to welcome Launch Party Attendees as the first to view his new store and the showcased talent of the nD Festival 2011. If you're not familiar with this reality star, he knows how to have a good time!
Other highlights of the evening will be live musical performances by The Hog Slop String Band, Abigail Washburn, Bobby Bare, Jr. and his special guest Carey Kotsionis.
You'll also be among good company with Nashville-based fashion insiders, including the design duo Carrie and Matt Eddmenson of Imogene + Willie, Nashville's denim gem in 12 South; fashion writer and stylist Libby Callaway (check out our interview with her last fall), co-chair of nD Festival. Guests of honor for the night will Hannah Jones and Jamie Frazier, of Jamie & the Jones, who were the winners of the nD Festival Emerging Designers Competition.
Organizers will announce the independent filmmakers, fashion designers and musicians selected to participate in the 2nd annual nD Festival. The Launch Party is the beginning of the creative and collaborative process of the selected artists, who will work through the summer to create the sights and sounds of this year's festival, slated for Sept. 28-Oct. 2. Launch Party individual tickets are $45 each, or $40 for Belcourt members; or nD Festival All Access Patron tickets are $175, or $150 for Belcourt members, which gets you admission to all nD events, including the VIP Patrons' Party, as well as a limited edition Patron bag, designed by Imogene + Willie's Matt Eddmenson.
Eddmenson who has created more trendy swag for Launch Party attendees, like a limited edition, collectible t-shirt and poster (100 of each, numbered) exclusively for nD Festival 2011. T-shirts are $45 each, posters are $15 each, or bundled for $50 and they will go quickly! All proceeds will go to the Belcourt Theatre.
Get your tickets here online at www.belcourt.org. and be part of this spectacular summer event!
Sponsors and contributors: Jamie Beckwith, Bradley, Arant, Boult, Cummings; Decker Wealth Management; Elan Skin & Hair; GNAR; Griffin Technology; HER Nashville; Sarah & David Ingram; Anthony Matula; Nashville Electric Service; Nashville Entrepreneur Center; NFocus; Nashville Scene; Mini of Nashville; Real Water; Richard Courtney, Realtor; Textile Fabrics; Village Real Estate Services; Woodmont Financial Services; and Yelp!