Her favorite color was blue, his shade was black. 'A Fashion Affair' at the Factory in Franklin was an event to raise money for women and children's charities and celebrate two amazing people; Johnny and June Carter Cash, their lives and their style.
From the moment I walked through the doors my eyes were scoping the room wondering what great memories would be put before me.
From the black and white slide show photos of the two over the years, to the "June Blue" cocktails to sip on, you could tell the event was well thought out.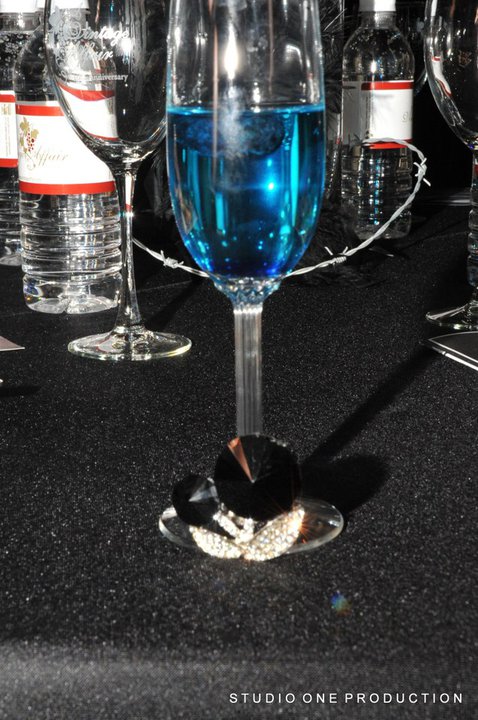 Over the past 11 years, A Vintage Affair has been helping to raise money for women and children in need in Williamson County. Just over the last 4 years they started incorporating the fashion shows. Over the years, they've raised over $1 million and have really helped to make a difference in the lives of the less fortunate.
I had the pleasure of sitting front and center with the Cuevas family once the show began and gratefully I had full view of the enlightening event. With the evening's fabulous host Jane Ellen behind the mic, her personality resonated while running the show. It began with several musical acts provided by the Dan Agency which all complimented the theme of the evening.
Next the models hit the runway and the initial focus was all on June Carter Cash's personal hat collection. Each model wore all black with their hair and makeup done just like June would have worn, which really made it feel that much more authentic.
June always said "An outfit isn't complete without a hat" and her extensive collection was one to prove just that. She loved to shop in New York and had a unique eye for what was different yet stylish and her collection was ahead of its time.
There were numerous shapes and cuts, colors and fabrics. From big and floppy to tailored and fitted, feathers, furs, and beautiful fabrics perfect for every season. One of my favorites was this particular fur headband in a warm camel color. It wasn't a full hat; it was just fabulous fur that made a complete circle around the head to keep her ears warm. The crown of the head was uncovered which made a completely fashionable statement allowing for her beautiful hair to pop through. It could easily be worn on a European snow bunny trip. This piece is timeless. It was popular yesterday and could easily be seen on countless celebrities today.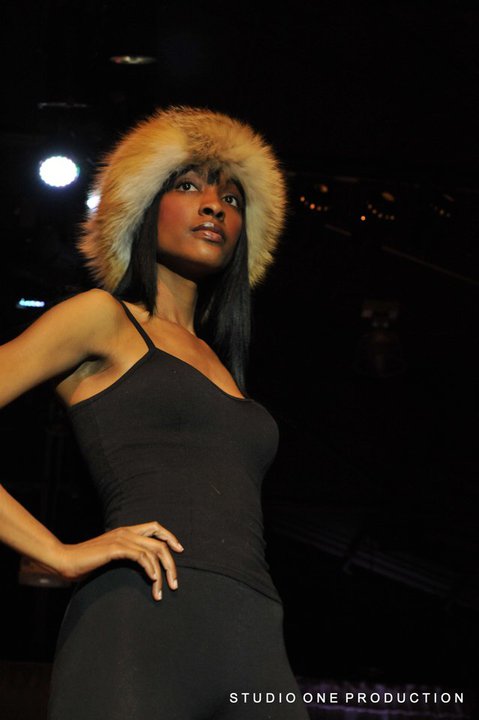 As accent pieces, Johnny & June's tour jackets from over the years were mixed in with the hats. I thought this was a unique and surprising touch.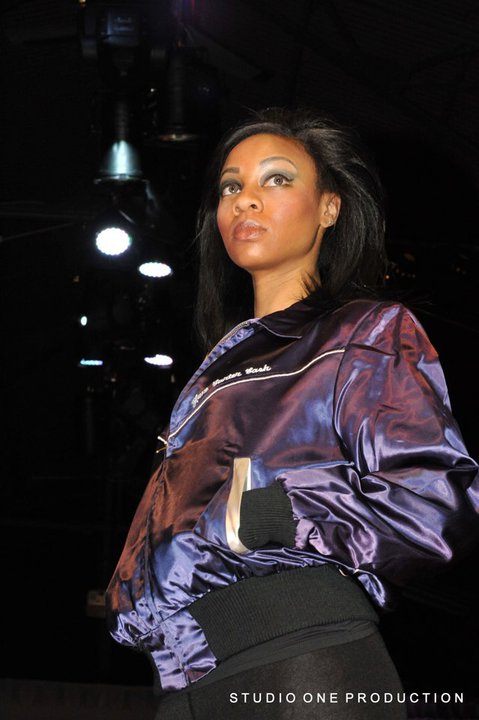 Then came her evening wear. Most seemed like bed gowns but some were elegant enough to wear to the right event. With detailed necklines and trains that flowed subtly on the floor, you could just imagine her floating across the room wearing one of these gowns.
One particular piece was very fresh and almost had a modern country feel to me. With its lace details, textures and layering I could easily see it worn today in a country music video or photo shoot, maybe outside with an acoustic guitar in her hand and a pair of cowboy boots. That was June's style way back when and is still inspiring today.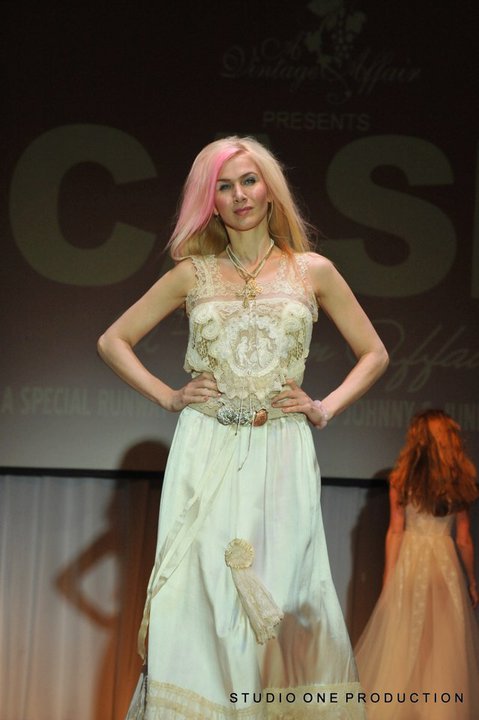 Next, her furs and outer wear began to arrive with amazing color palettes and unique designs that you would only see on a star like June.
One of my favorite pieces was this grayish cape, like a long jacket. The hood and detailed texture featured peacock feathers along the front and offered an unusual touch that really stood out to me. I've always had a longtime love of Peacocks and I was particularly attracted to this piece. I also learned that evening that Johnny & June had Peacocks walking around on their property because of their beauty and these birds influenced the creation of this piece.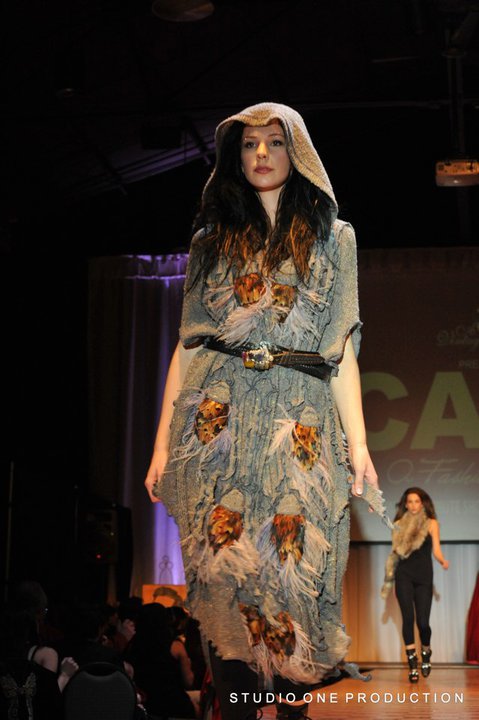 Going back to the snowy fur route was this amazing dark red vest. The color was just exquisite and its elegance could easily allow it to be worn both dressy or casual. I loved the unusual length for a vest and the high collar was a fabulous finishing touch. I loved the cozy look!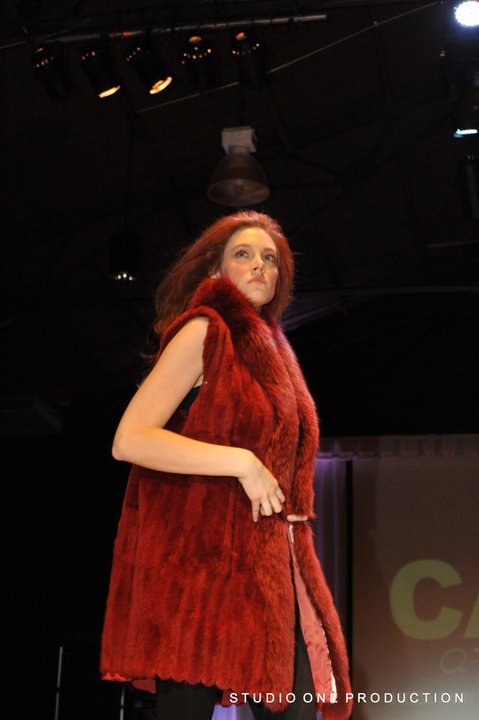 After June's collections were shown, a female model came out with a long black robe on. When she got to the end of the runway she took it off and had on a black t-shirt on that said MANUEL with black, boy short panties that also said MANUEL. Thus, The Man in Black's clothing collection began.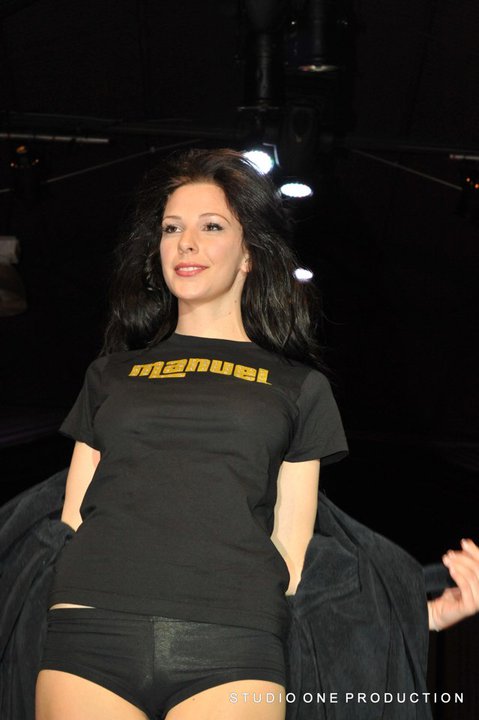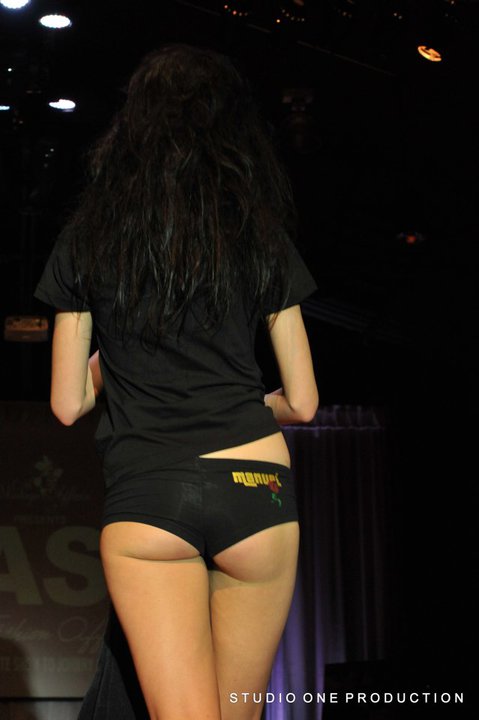 Once a style icon himself during a time when things were a bit conservative, Johnny chose to wear all black rather than traditional attire and even though the pieces in the show were not actually worn by him, they were created by his favorite designer, MANUEL. As a couture clothier, MANUEL has dressed celebrities from Johnny Cash to The Beatles and is still dressing some of the industry's finest out of his Nashville store front today.
Every look was stunning with exhilarating details from head to toe. One of my favorite looks was an eagle jacket complimented by the good book and all black attire. The Bible represented good vs. evil and the pompadour hair style with strong features made this amazingly detailed jacket even more of a Johnny Cash statement piece. This look was reminiscent of Cash's early years.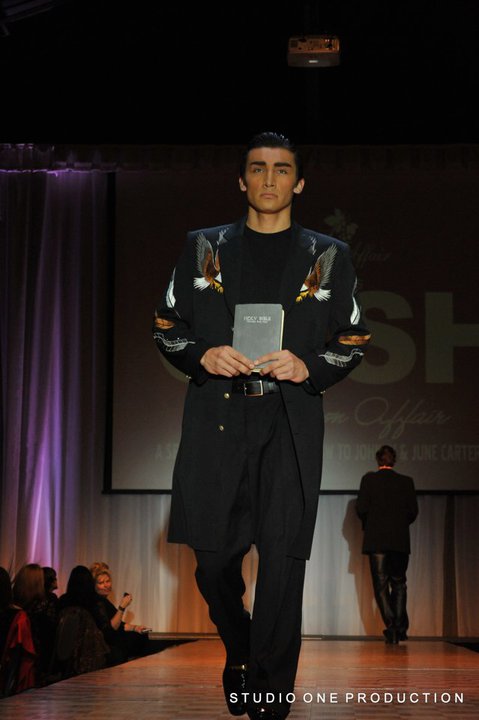 Another item that excited me was the classic Johnny shirt. I personally remember seeing him wearing this style on numerous occasions. This piece, also designed by MANUEL, was a must have for the show to represent Johnny's style and signature look.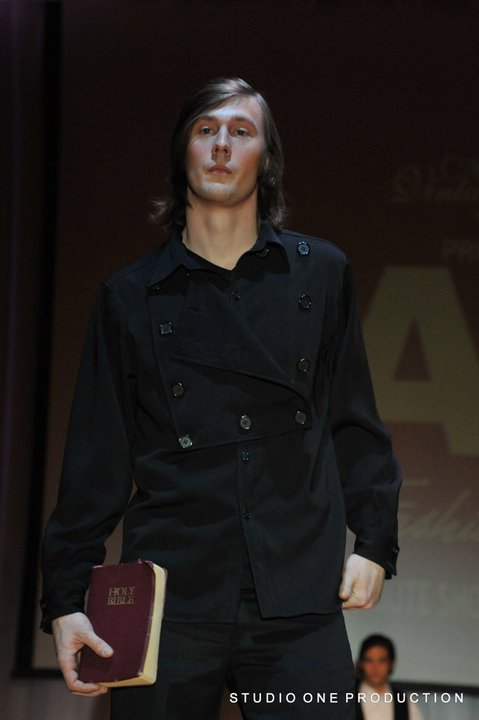 The final men's piece that I loved was phenomenal! Also a MANUEL piece, but made by his son Manny Cuevas, this piece is part of his his collection called "Wear it out MANUEL". It is a full length exotic black python coat that in Manny's words was "Made to look rich with an edge". Its long sleek statement with bold front buttons, impeccable frame, and construction were a great addition to the 'Ode to Johnny' look and I was glad to see it.
To conclude the show, they invited Johnny Cash's sister Joanne out on the runway with her granddaughter Fallon, who was also a model in the show. Joanne was wearing a Ranch Mink Cape that was given to her by her brother for her birthday years ago. Fallon was wearing a June Carter Cash Cheetah coat that fit her to a 't'. Each was remarkable and as they walked to the end of the runway the crowd rose and applauded. The feeling of appreciation and love was in the air and this final walk was a fabulous way to end an amazing evening that left me on cloud nine.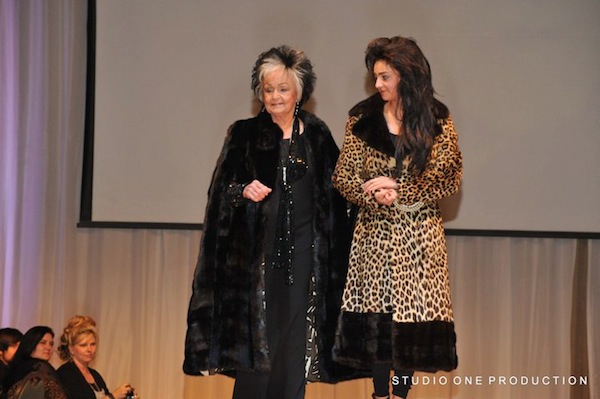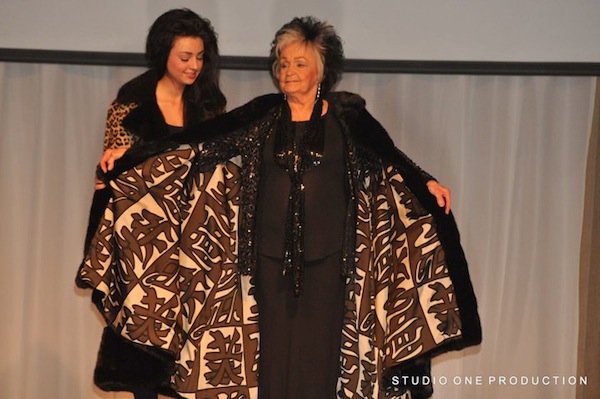 After the event, I had the pleasure of meeting numerous Cash family members including their son John Carter Cash, his wife, and their two children. I spoke for a long time with Johnny's niece Rhonda and his cousin Kelly, who was also their long-time assistant. I was really impressed by their humble down to earth personalities. You could really sense their heartfelt love and loss of Johnny and June.
Through time, music has always been a beloved part of who we are. From those first notes that get us tapping our feet to the others that fill our souls when we are down. It's always been a major part of our culture and everyday lives.
I know I'm not alone in saying that Johnny and June have always played a part in the soundtrack of my life and this made 'A Fashion Affair' at the Factory in Franklin an affair to remember.
Photography by: Tony Beasley of Studio One Production
To purchase prints of the photos or request the rights to republish any photos from the two albums above or this article, please email 1tonybrnfa@comcast.net