Watched all the Big 4's Spring and Summer runway shows? Drooling over your favorite designer's latest collection? Wishing you could own what that high fashion model is walking in? Look no further than to local designers to rock your favorite Fashion Week looks.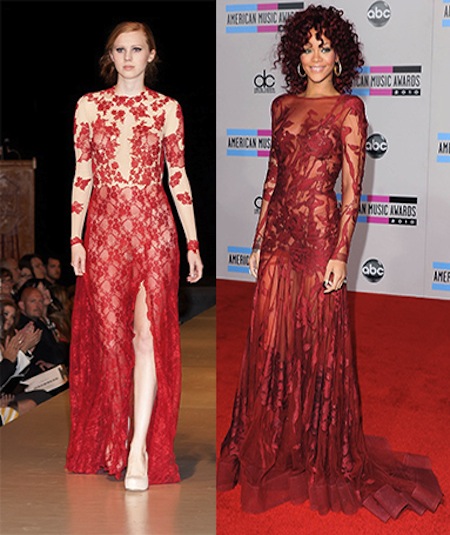 Red carpet bloggers everywhere fell in love with this sheer, floor length Ellie Saab dress worn by Rihanna (right). The structure and red embroidered mesh of this dress reminded me of another piece by an O'More College of Design student, Lauren Zwanziger (left). Both designs possess the same sultry and romantic feel emphasized by floral patterns in shades of red. Sheer evening gowns have become quite the trend and can often be a hit or miss. However, both designs executed the idea notably better than many.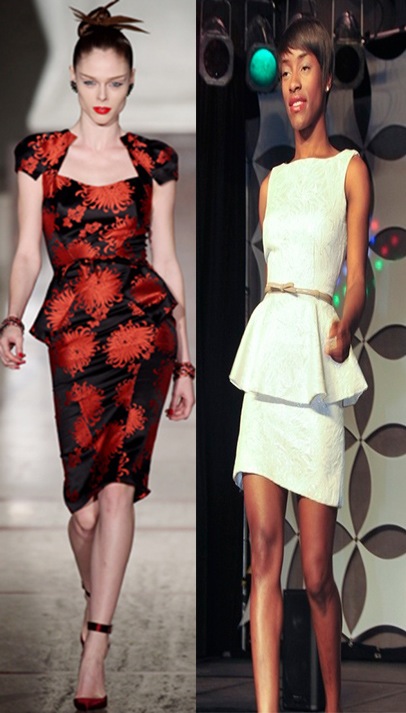 Since the Fall of 2011, peplums have been spotted on designer runways all over from NYC to Milan. Although, the trend is anything but surprising. They've been seen in women's wear for centuries, having been translated into modern times to adorn skirts, jackets, blouses, and even pants. Zac Posen (left) and Nashville designer Brittany Blair (right) incorporated peplums into their latest collections. What I love about both designs is how they simulate the ideal silhouette. The peplums accentuate the hips while providing the look of a tiny waistline.
Sheer textiles are without a doubt one of this year's biggest trends, trickling from runways right down to your local Forever 21. I would like to think its popularity is due to how versatile the style is. Lilly Reynolds, a design student at Ravenwood High School in Brentwwod, TN (left) and Alexander Wang (right) chose to implement this trend with sheer, large-pocketed, oversized button-ups. What makes this style so widely appealing is how easily it can suit a variety of preferences. For a more conservative office look, wear it tucked in with a matching camisole. To be more daring for a night out, wear a contrasting bralette underneath.
There's a lot of hidden talent in our city, that has yet to catch as much attention as deserved. Big names don't always mean incomparability, and local doesn't exactly mean average. Nashville designers have a lot more to offer than the rest of the world might be ready for.