On Wednesday, March 30th, 2011 the second round of runway shows were held at The Arcade in Downtown Nashville. The event got off to a bit of a late start due some apparent confusion about media placement and seating. Luckily, the cocktail reception at Rymer Gallery was a great place to wait for the show to start.

Patrons mingled, snapped photos, and enjoyed complimentary cocktails, delicious mini-cupcakes, and fabulous hors d'oeuvres.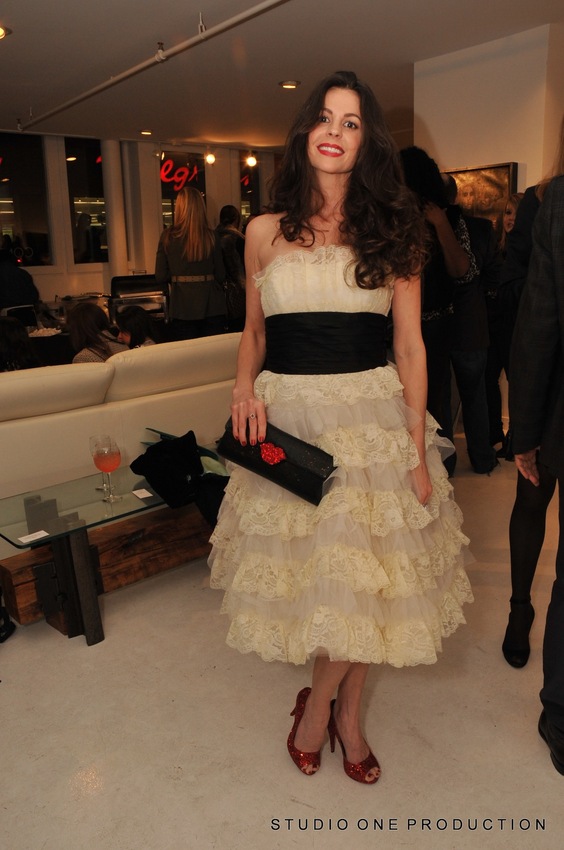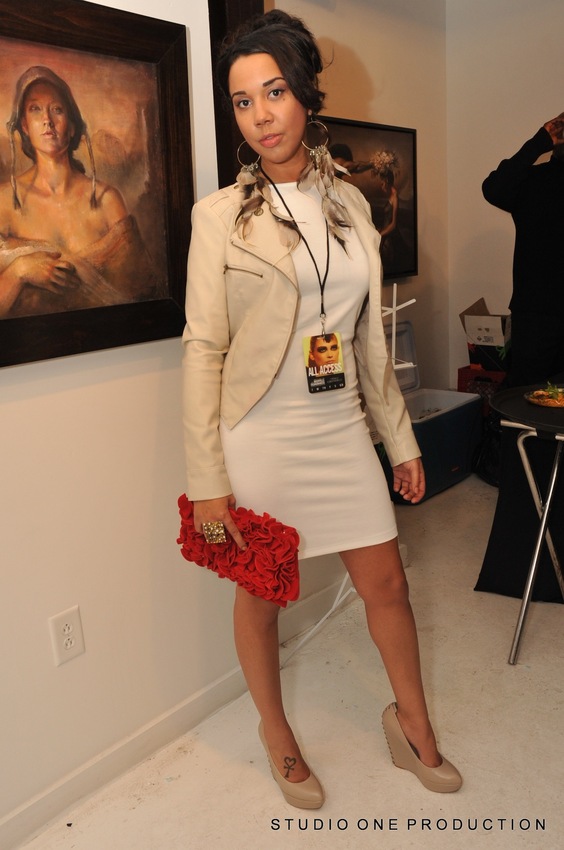 Once we were informed that the show was soon to start, we made our way across the street to The Arcade to find our spot for the show. Anticipation built as media crammed into the back of the curtained off space. It was a bit chilly and cramped but everyone was excited and eager for the show to start.

The crowd grew quiet as models walked onto the runway to modern, opera-style music. A screen at the front of the runway displayed Nashville based designer, Melissa Tabor's name. A perfect accompaniment to the music selection, Melissa's designs were simple and elegant.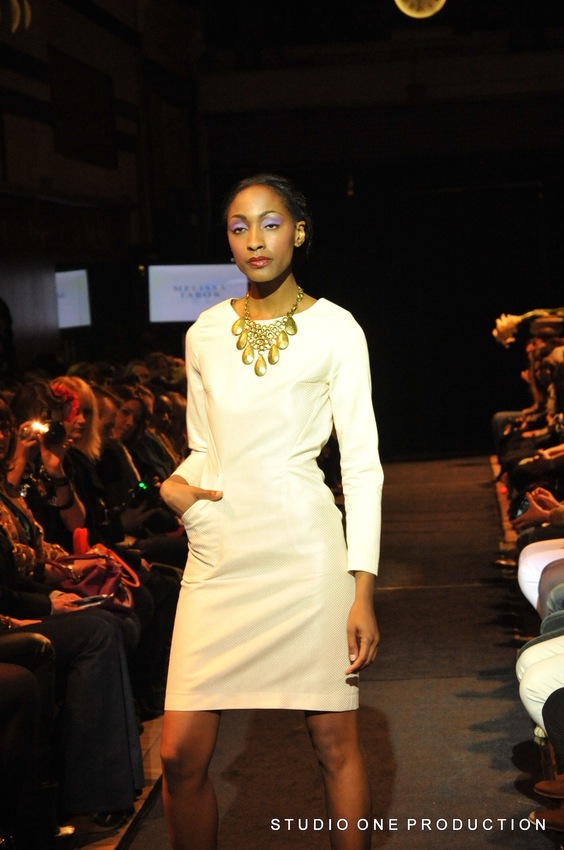 Tweed and other textured fabrics in cool cream, light olive, tan, and black graced a majority of the pieces.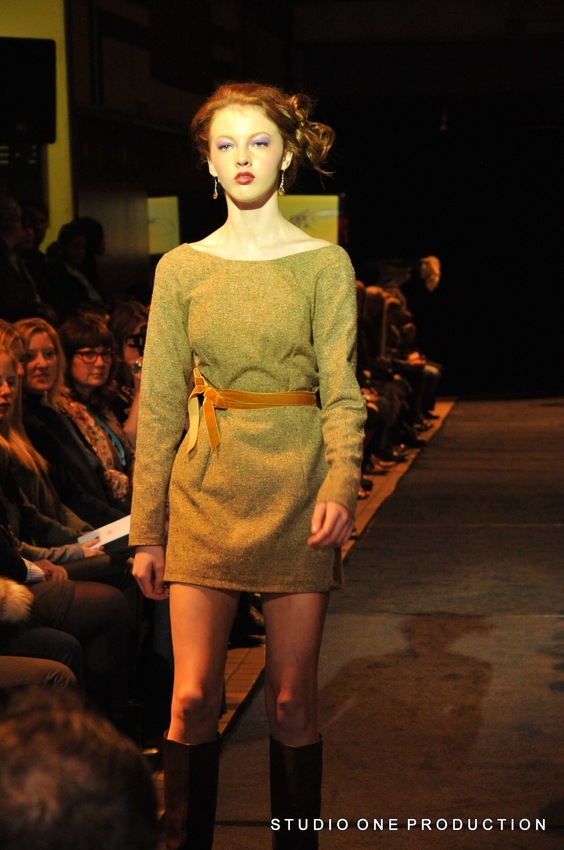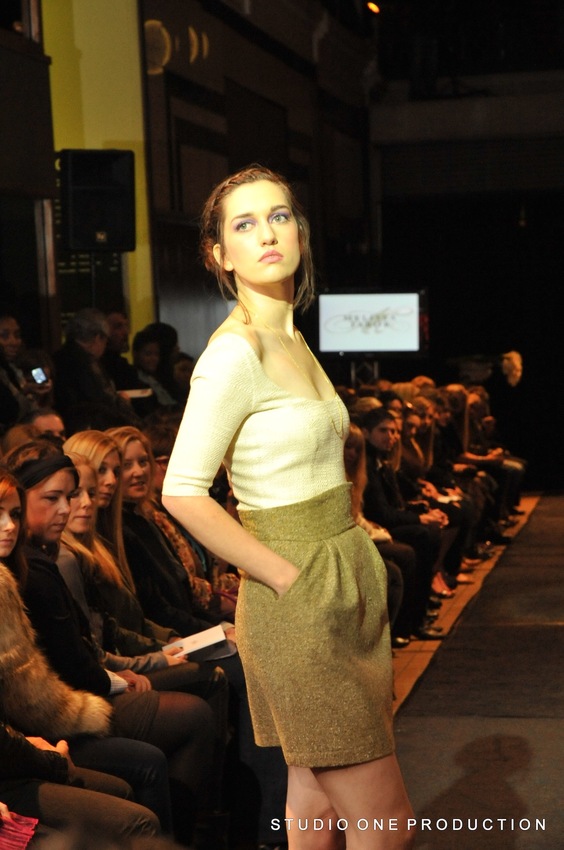 Intricate details such as ribbons tied at the waist, exposed zippers, and long fabric pieces hanging from zippers were signature elements of the collection.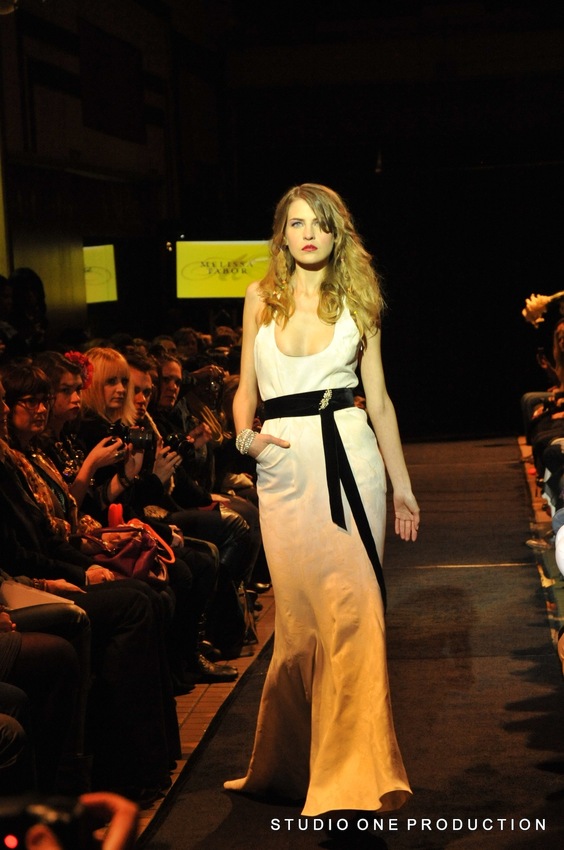 Melissa Tabor's style will appeal to women of any age who admire the elegance and timelessness of Audrey Hepburn and Grace Kelly. You can find Melissa's designs online at www.melissatabor.com

Next up was Gado Gado. Originally from Istanbul, Turkey, designer Belinda Kaznci draws inspiration from nature and specifically the Island of Bali.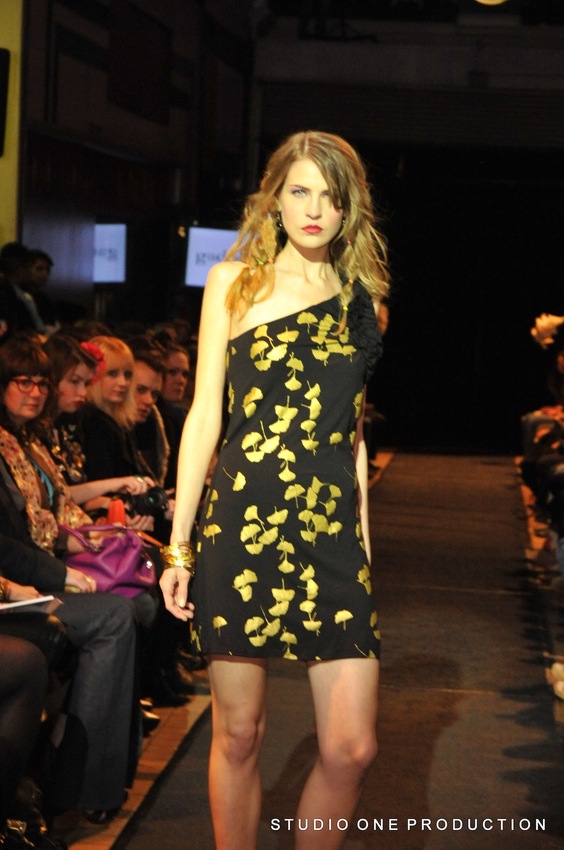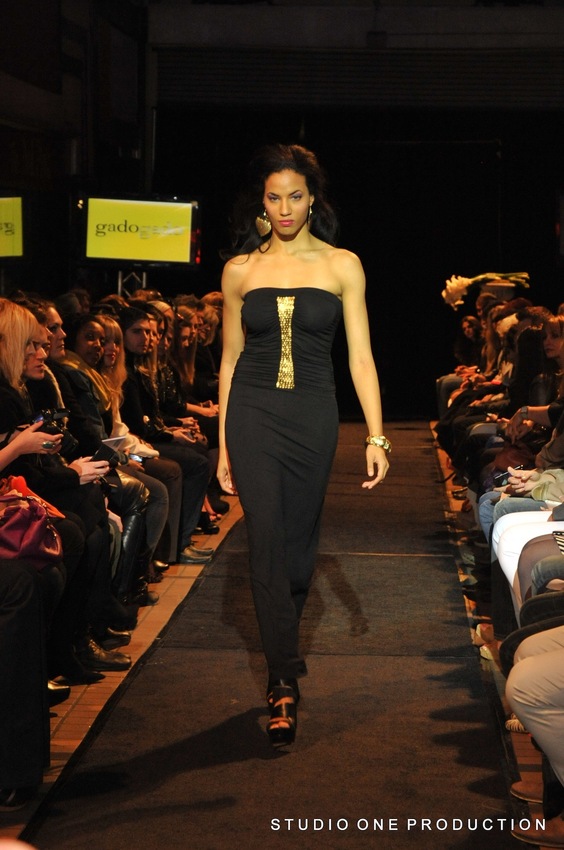 Rockin' music that made me want to dance started the Gado Gado show. Funky prints and interesting details adorned comfy, figure-flattering jersey dresses. A long, green, one-shoulder dress with a tree print was simply stunning on the model.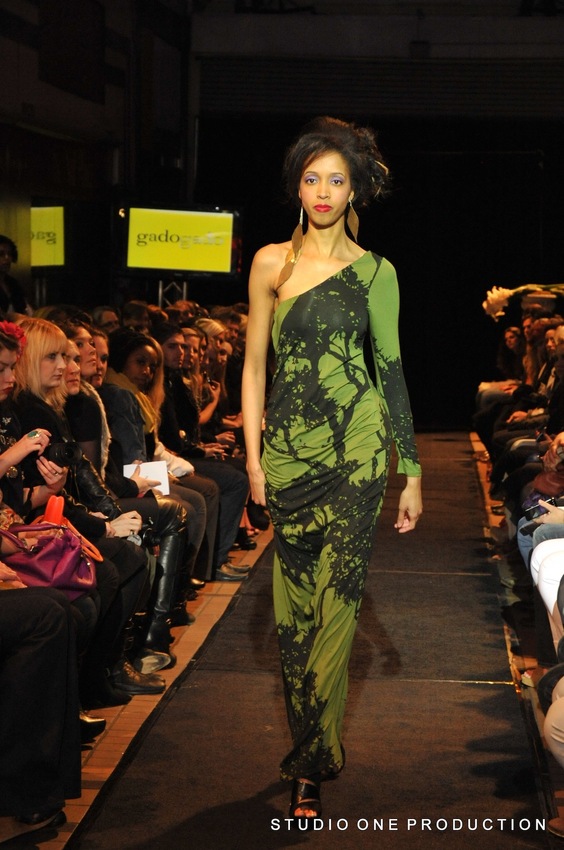 Solid jersey dresses with colorful belts accenting the waist and a type of loop-de-loop detail added just the right pop of color and contrast. You can find Gado Gado's funky, eco-friendly fashions online at www.gadogadoapparel.com and at Posh Boutique in Nashville.

Switching gears completely, Betsey Johnson was next and all about FUN! As bubbly, pop music played, models bounced on stage and flirted with the audience blowing kisses, winking, and just having a great time.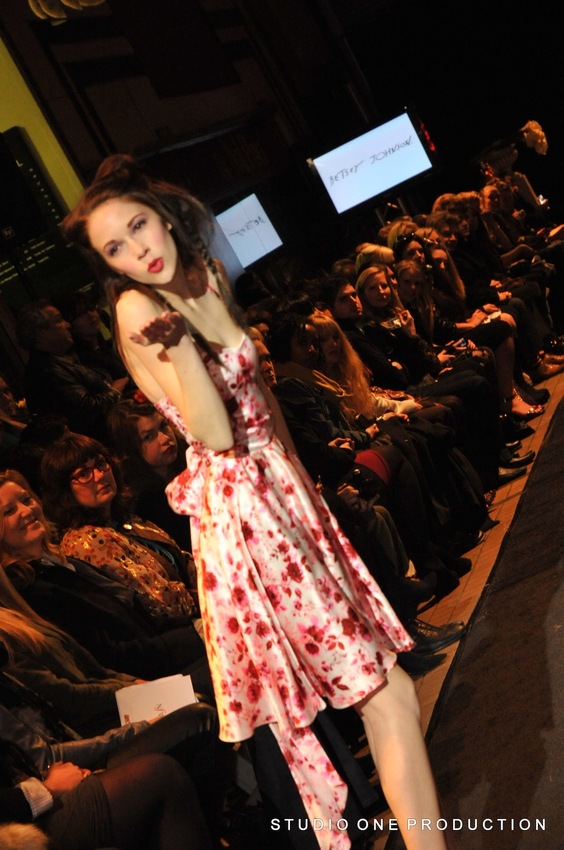 I forgot all about my aching feet and cold hands as one whimsical ensemble after another put a smile on my face. Gorgeous bubblegum pink tulle strapless dresses reminded me of cotton candy and blissful youth.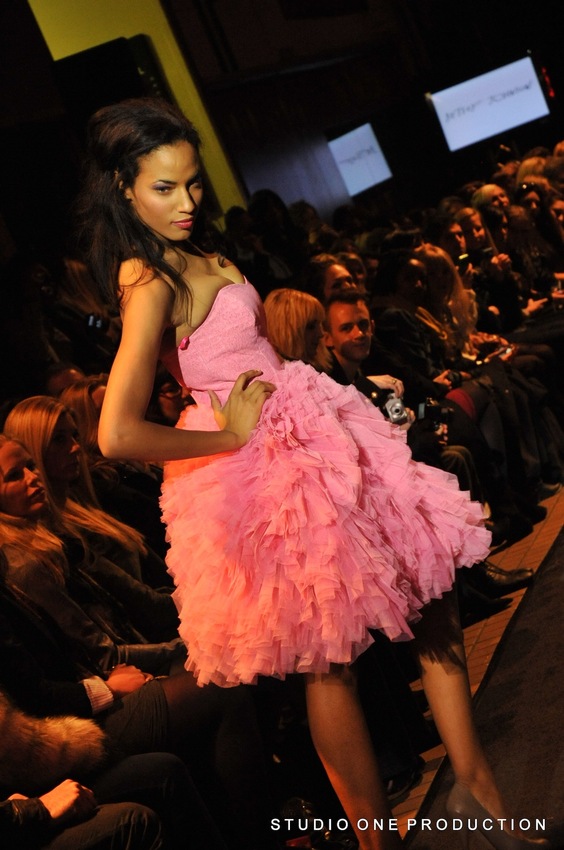 Playful florals and striking animal prints were mixed for an interesting affect.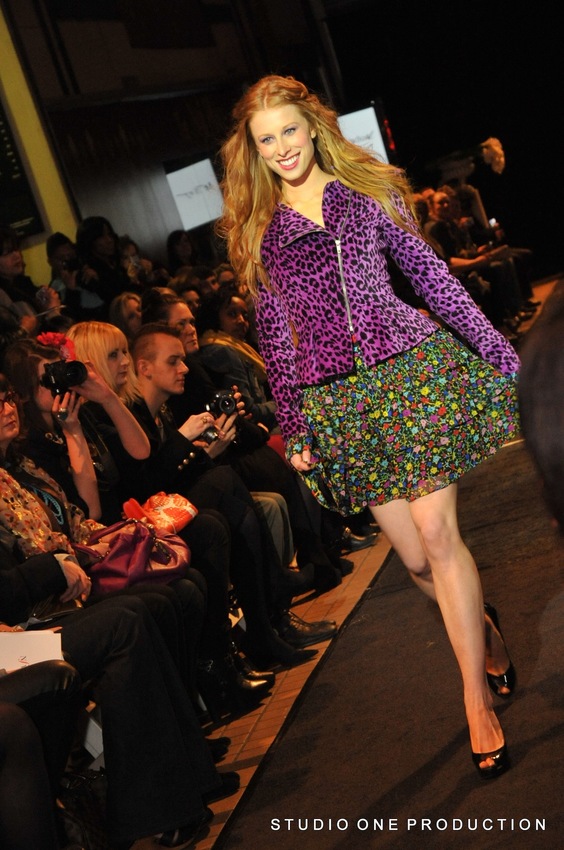 One of my favorite prints of the show was primary colored hand guns over white cotton fabric. Yes, you read right…hand guns.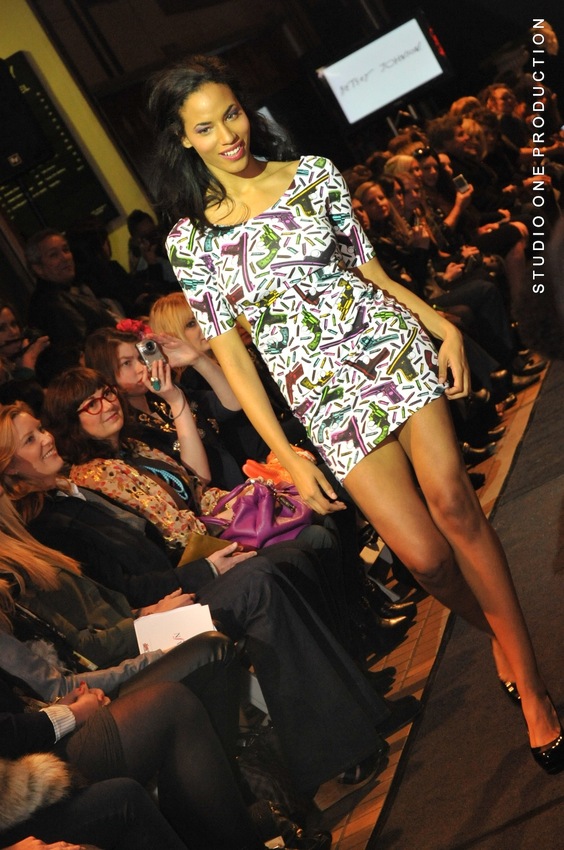 For the finale, Meghan Linsey of the country music duo, Steel Magnolia (www.steelmagnoliamusic.com) walked onto the runway in an 80's "Pretty In Pink" inspired pale pink, tiered ruffle dress and brocade jacket.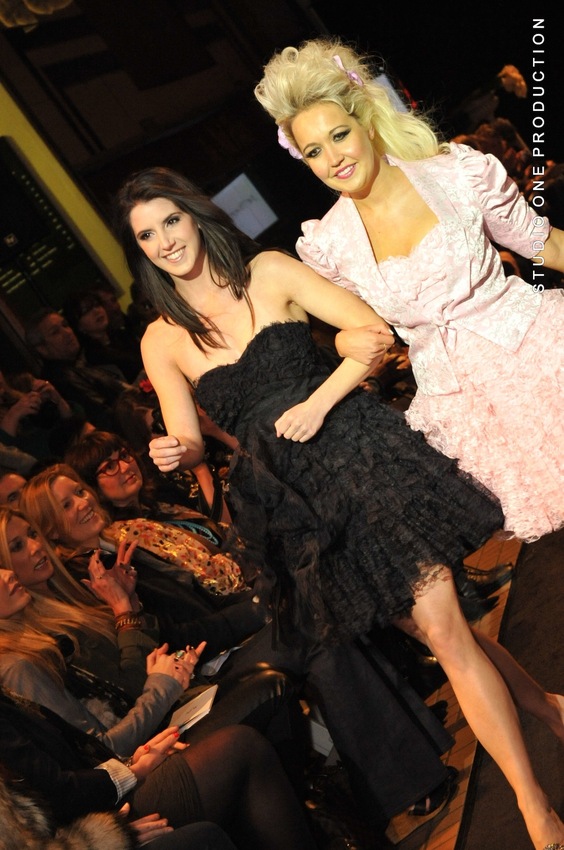 Betsey Johnson's fun, fabulous designs are available online at www.betseyjohnson.com and at The Mall in Green Hills.

Ben Sherman's show opened to the song Champagne Supernova by English band Oasis. Perhaps a nod to Ben's heritage, it was the perfect song to start his show! Ben Sherman's designs are classic and collegiate and have mass appeal. Ben's well made, well tailored clothes will appeal to confident, self assured men who know what they want. Rugby style shirts, chinos, flannel shirts, wool blazers and cardigans were staples of the collection.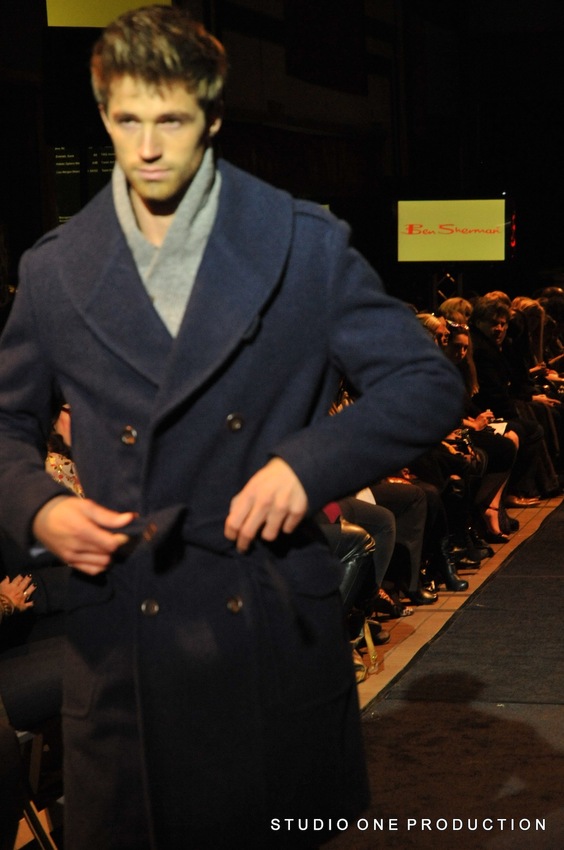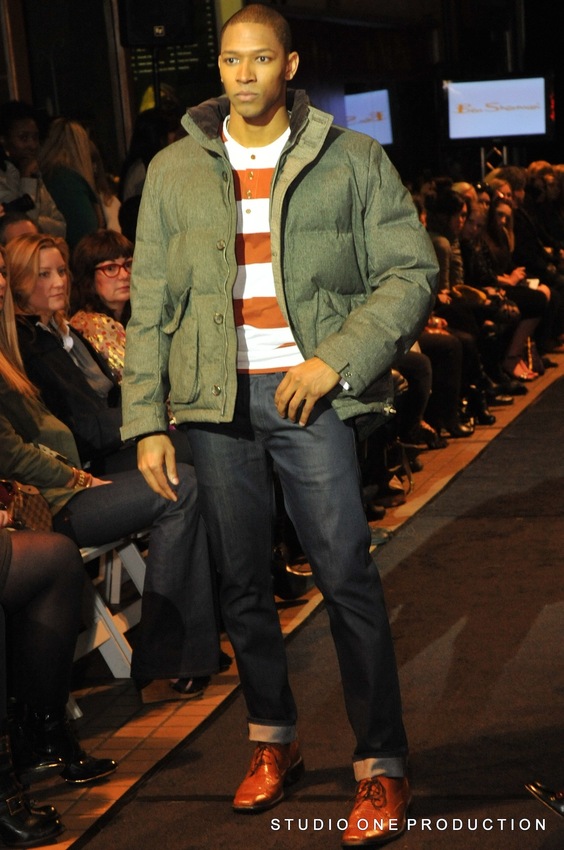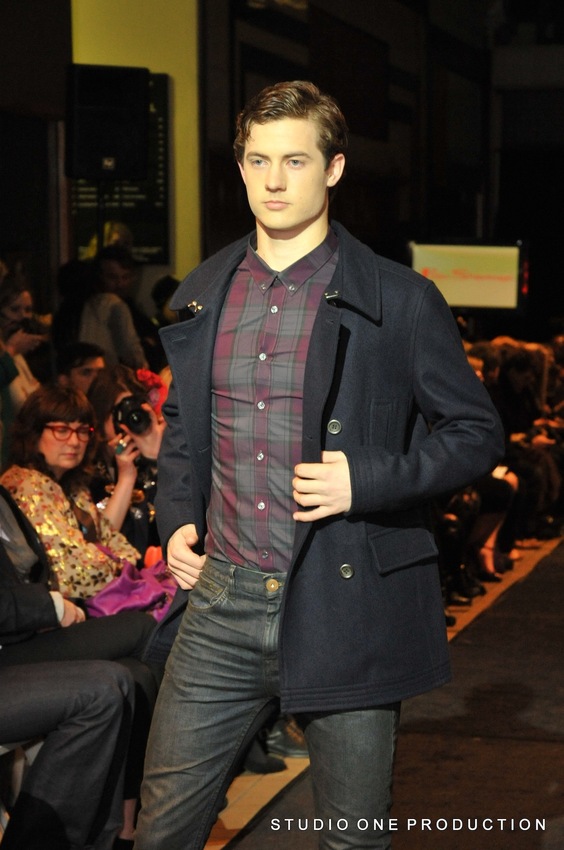 My absolute favorite look of Ben's show was a pool blue v-neck sweater, paired with cream colored chinos, and leather tasseled loafers. On the model, the blue just popped in a very sexy, understated, preppy kind of way.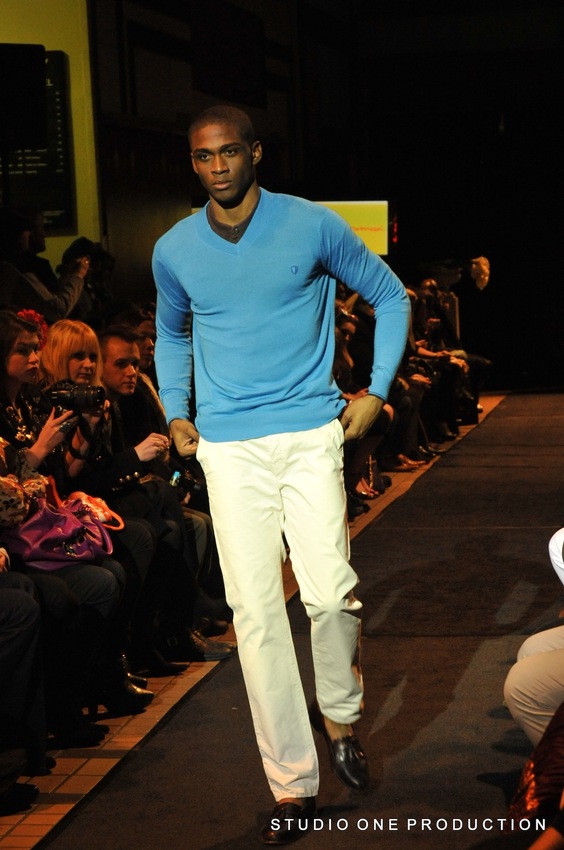 Ben's chic, preppy collection is available at www.benshermanusa.com.

Last, but certainly not least was T. Rains. After having met Traver Rains the prior night, I was anxious to see what this L.A. designer had in store. Holy cow did T. Rains bring it! I Love Rock N' Roll by Joan Jett and The Blackhearts kicked off his show and set the party mood. A skimpy, paisley, hip hugging brief and lace-up corset paired with an outlandish feather headdress was one of the first crazy ensembles to grace the stage.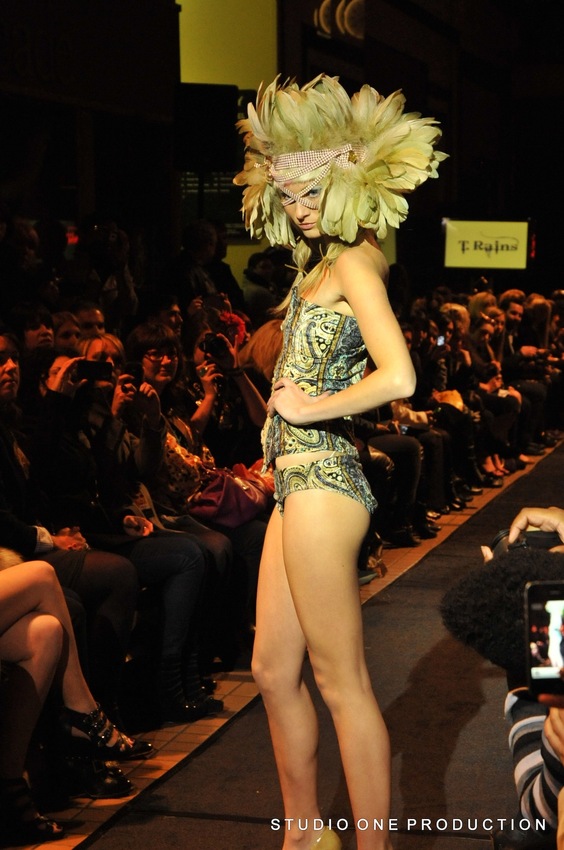 There were so many unusual and unlikely fabric and style combinations that had me scratching my head and wanting more.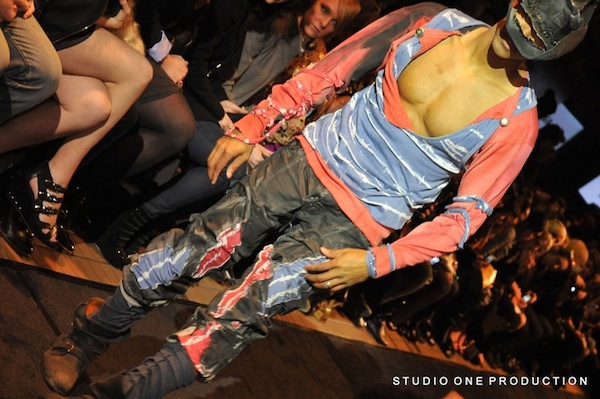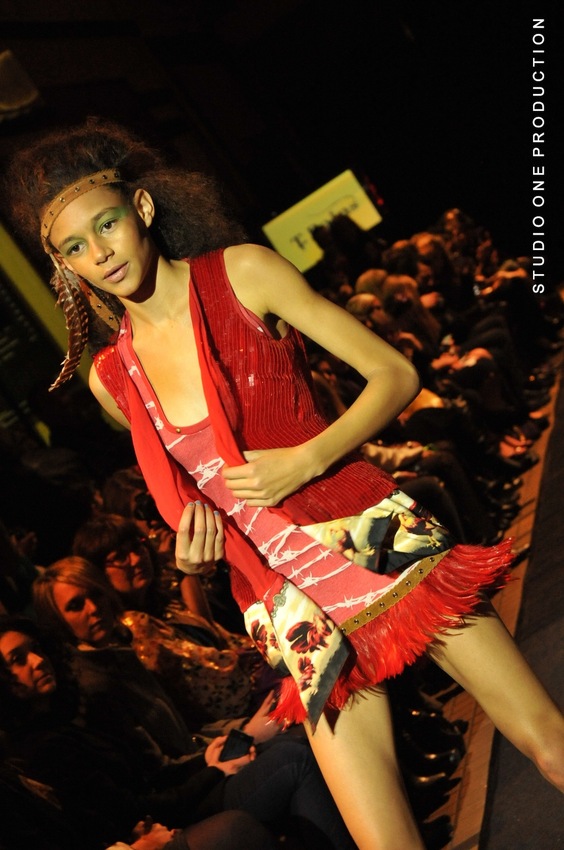 One fabulous example is a dress that had a beaded gold and black corset style top and flannel plaid skirt bottom. Patterned, cuffed, arm warmers and long feather earrings completed this funky look.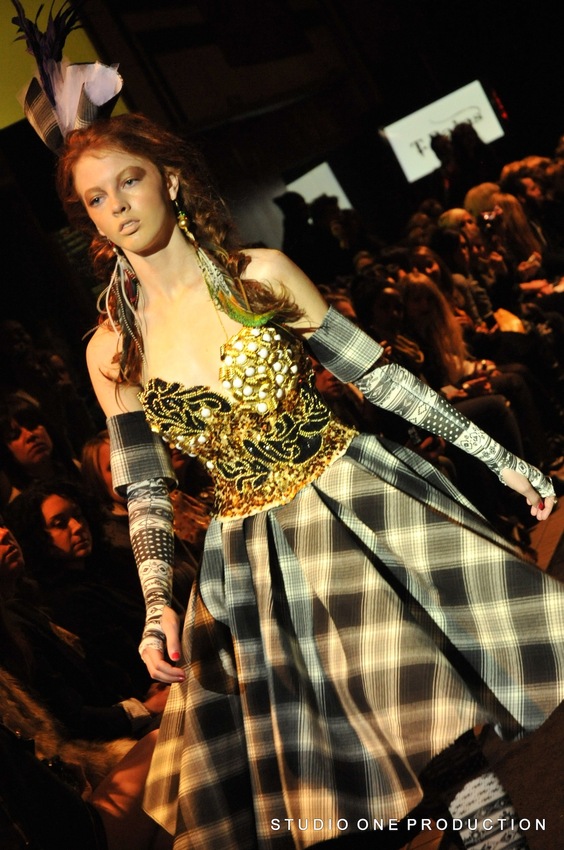 Track style suits with cowboy and Indian prints mixed with sequins gave new meaning to the term "Urban Cowboy".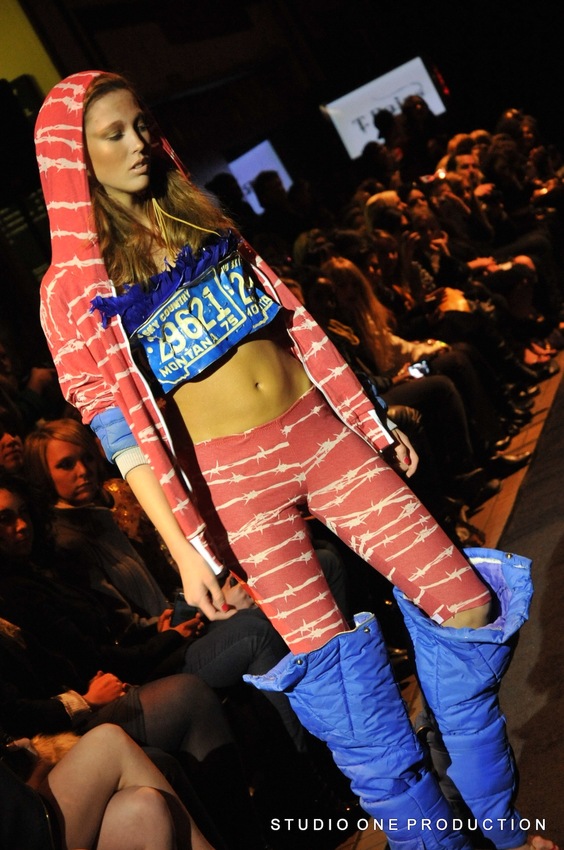 Kudos to T. Rains for his imagination and innovation! The Indian headdresses and feather accoutrements were phenomenal! A female model wearing orange and blue striped corset and bikini briefs with a huge blue, feathered Indian headdress with a tulle train attached was simply awe inspiring!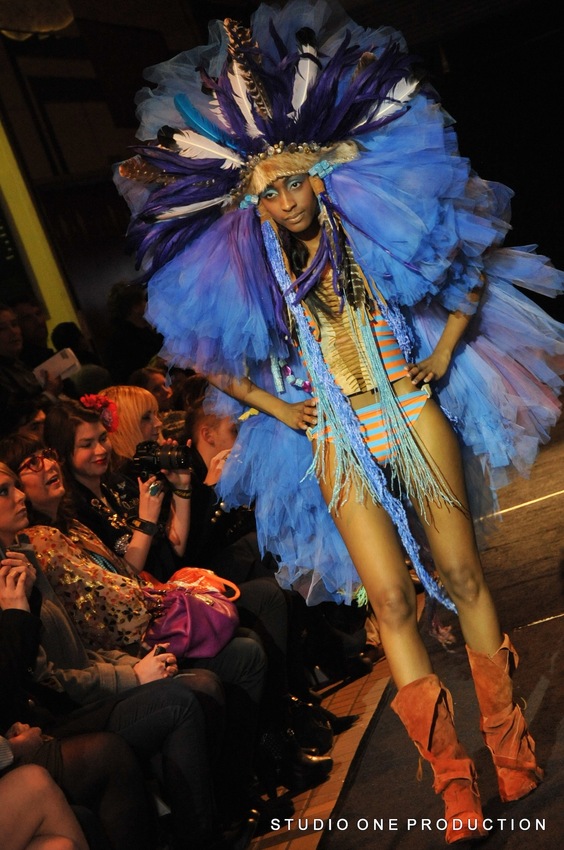 If T-Rains meant to shock and awe the audience, he certainly succeeded! You can find his amazing designs at www.t-rains.com.

What a great second night for Nashville Fashion Week! It was worth the aching feet and cold temperatures! Congratulations to all the designers, models, coordinators, and others that made this show a success!