If you're living in Nashville and call yourself a style enthusiast, I'm pretty certain you've heard of Local Honey. For the young, fashionable, statement makers of Nashville, Local Honey is much like an Oasis, fittingly located around the corner from Hillsboro Village, right next to Bongo Java.
Although Nashville has become no stranger to the world of fashion and style, there still aren't many locations that seem to cater its audience like Local Honey. Promoting the work of the city's most innovative designers, the boutique is at the forefront of what's to become.
There are a multitude of local designers whose creations have been featured and sold at Local Honey, showcasing original, reconstructed, and vintage pieces all under one roof. Chaseash, Ritual Flint, Sai Sai Arts, and many other brands have called Local Honey home. Included, labels such as Jamie & the Jones and TUFT were even showcased at this year's Nashville Fashion Week.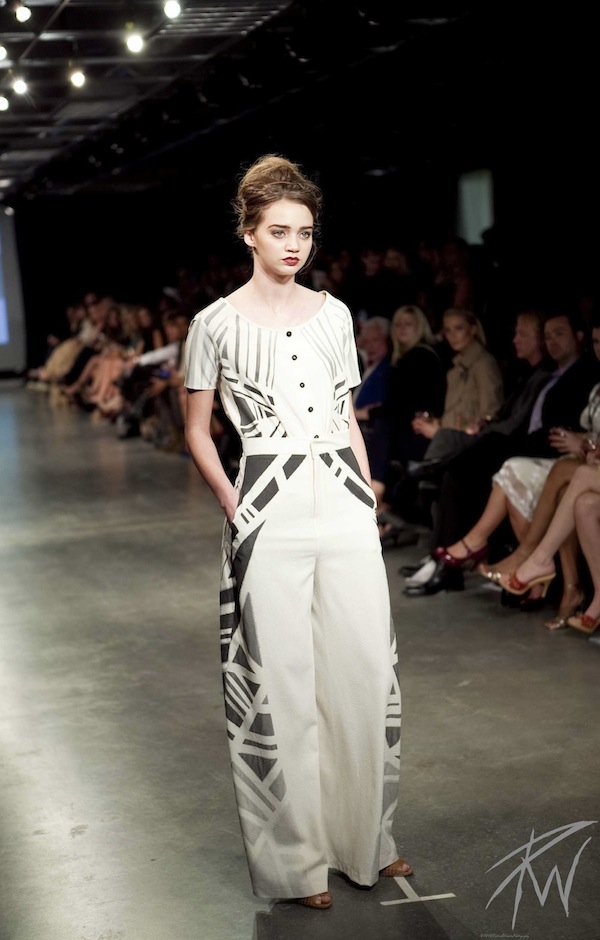 Jamie & the Jones (photo by Patrick Webster of Patrick Webster Photography)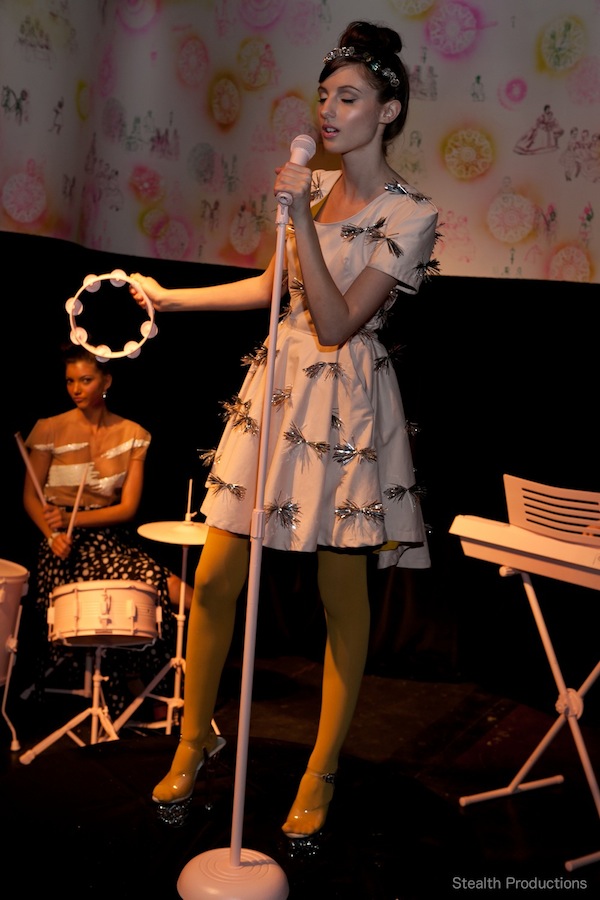 TUFT (photo by Doug Barry of Stealth Productions)
Local Honey serves as a golden opportunity for designers to make a bigger footstep within the budding Nashville fashion scene through the store's ever growing and fresh-faced clientele.

When told I would get to put together a few looks using only items found in Local Honey, I have to admit that I was pretty excited. It's sincerely a great feeling to promote clothing from a store that has such a big place in my own closet, making the task of pulling the looks for the shoot far less daunting.

(photo by Christy Carlson of C-Images Photography)
For the first look, I thought it'd be a nice challenge to include only the store's menswear by Tidwell and Perryman. My eyes lit up at all the vintage graphic T's, sweaters, button-ups, and vests. T&P has so much to offer. I wanted to think like one of many stylish guys I see shop the racks, mix prints, and play with shapes. Then I remembered, that I wasn't styling one of those stylish guys, but my beautiful female model. Yet, I was undeterred.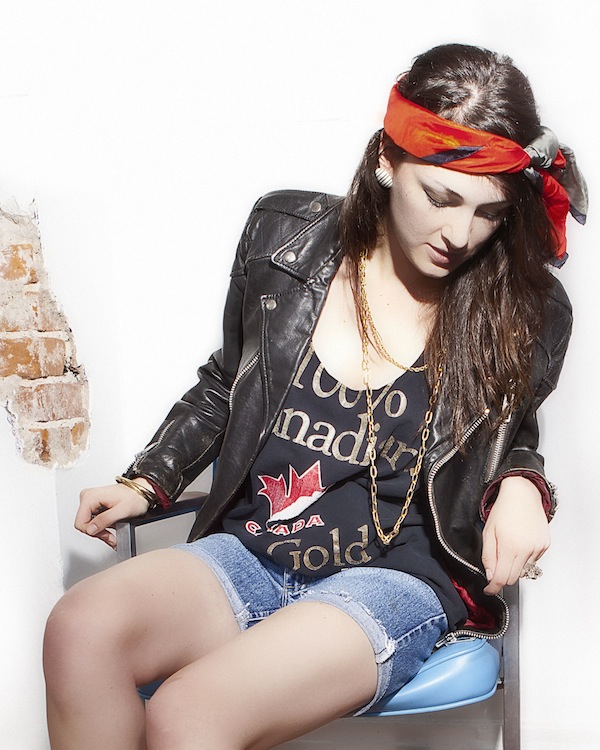 (photo by Christy Carlson of C-Images Photography)
Sizing was a definite challenge, but I still love the look we created. I could not go without including one of the leather jackets and combat boots that lined the wall, which ended up setting the tone for the rest of the outfit.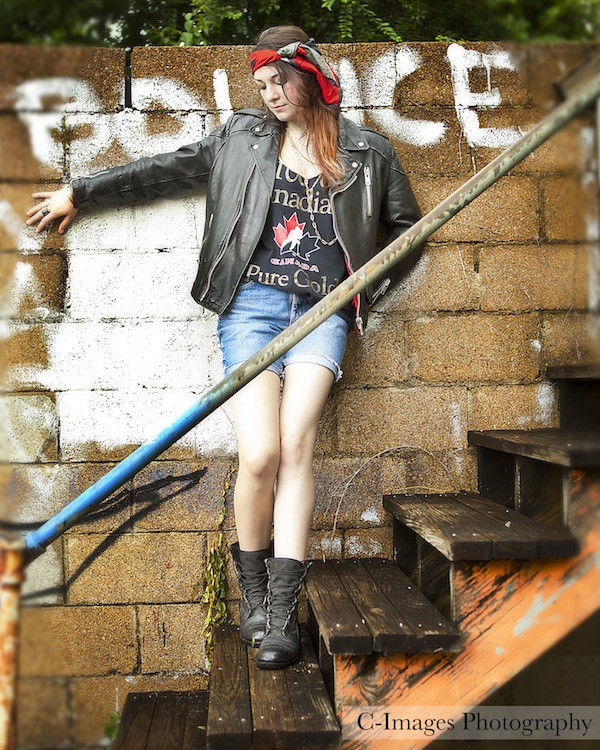 (photo by Christy Carlson of C-Images Photography)
The cut off shorts seemed to be the only bottoms that fit, but ended up being precisely what I was going for. The "Canadian Pure Gold Shirt" just so happened to be my favorite in the store. It all fit together like destiny.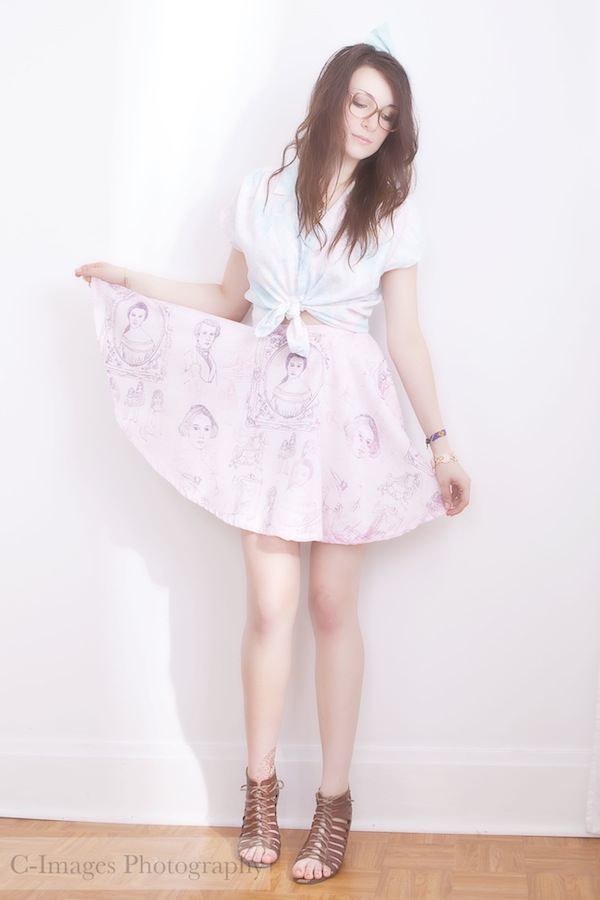 (photo by Christy Carlson of C-Images Photography)
This look is so far from my personal style, which is exactly what drew me to it. I'm usually not one for pastels or frilly, girly, cutesy things, but this waist skirt jumped out at me. I was already pretty determined to use something from the newly added TUFT collection, and choosing to go with this skirt was an easy choice. I was drawn to the historic looking portraits that detail it.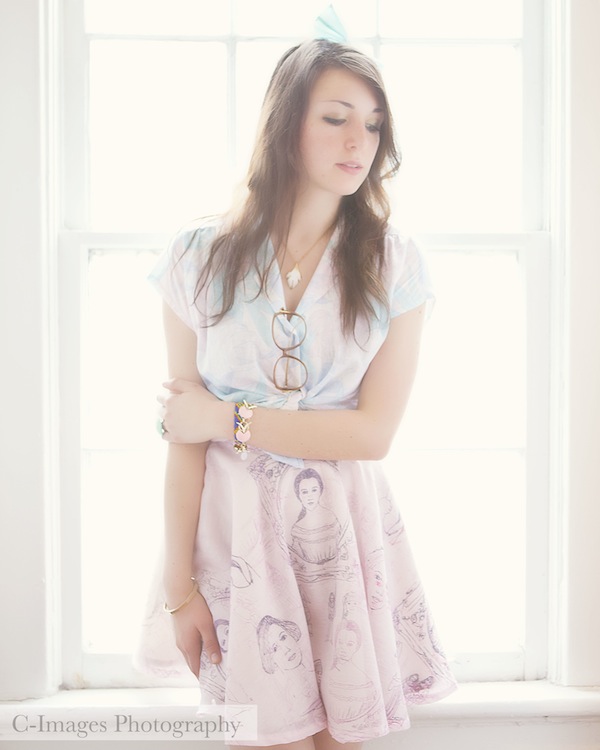 (photo by Christy Carlson of C-Images Photography)
The artwork was done by Beth Gilmore, artist and co-owner of Twist Gallery. As TUFT itself is very pastel driven, I wanted to continue the palette using the floral shirt, bow headband, gold bracelet, and glasses.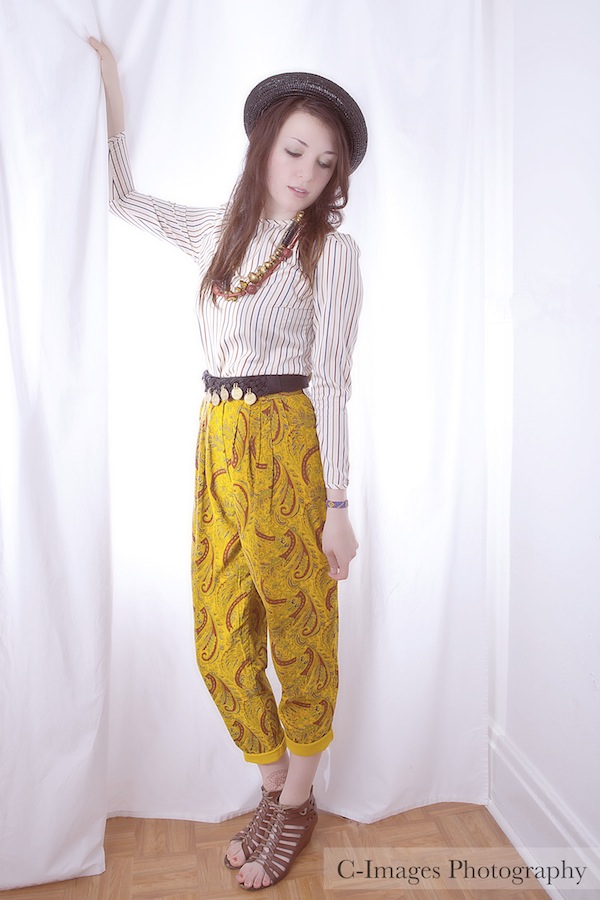 (photo by Christy Carlson of C-Images Photography)
The last ensemble is definitely something I would wear myself. The look began with the mustard, cuffed paisley pants. I'm really a sucker for high waisted, oversized anything, so the rich color and print of these pants was icing on the cake. I was in the mood for something that could somehow portray 80's, menswear, jazz, and gypsy all at the same time.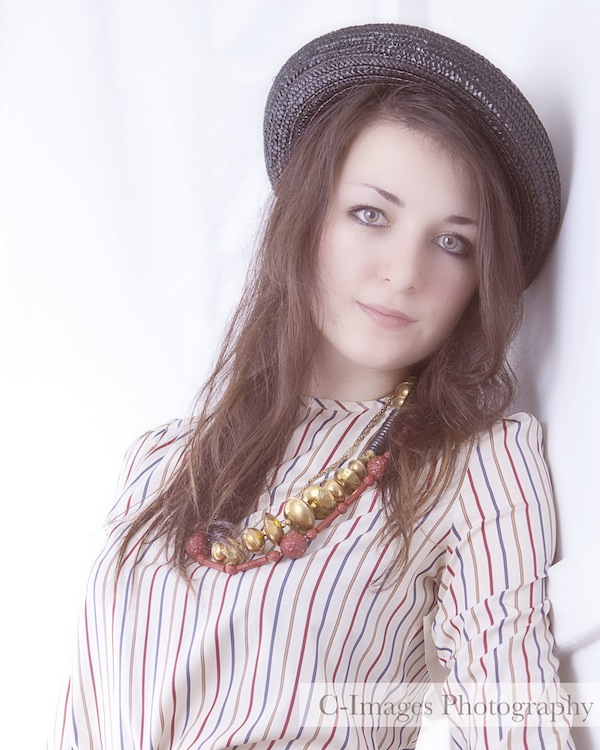 (photo by Christy Carlson of C-Images Photography)
So the chunky jewelry and woven bowler hat were musts. I enjoy mixing prints, and the colors and shape of the striped blouse easily complemented. However, overall my favorite part of this outfit was the braided belt. The tiny gold coin-like pieces gave the exact feel I was going for and made a small connection with each piece.

There is far more to be discovered here than what I've shown...this is just a taste of what Local Honey has to offer. It's very evident that each garment is made with much love, deliberation, and with the most fashion forward customers in mind. Local Honey is the perfect place for anyone seeking to amplify their own individuality and dare to look a bit better than the masses.
*Model: Valerie Biles